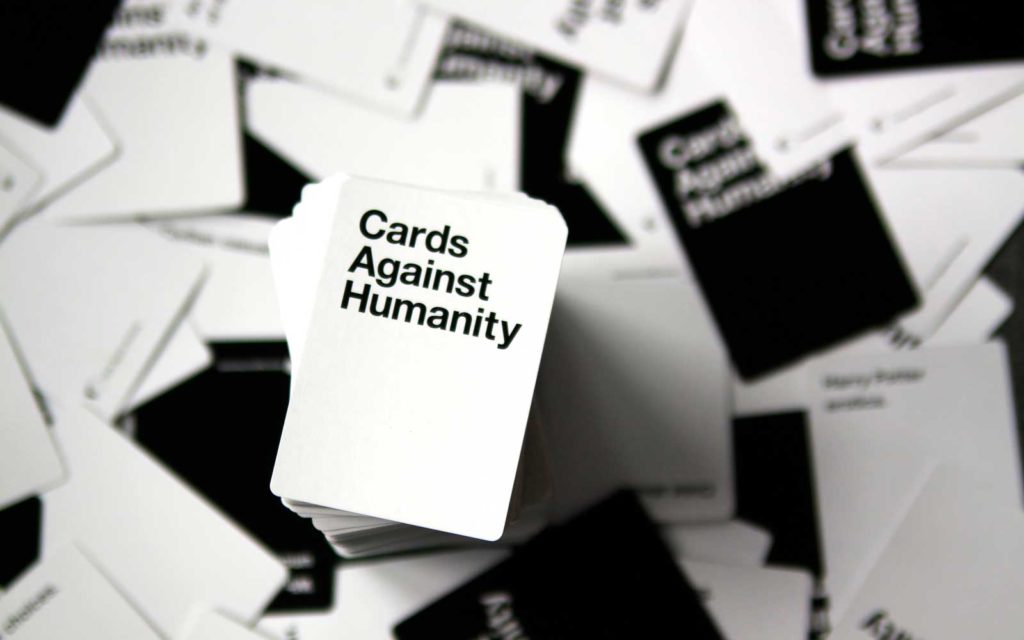 Ten must-play games during the lockdown
BY MARYNA ADSHADE
The current COVID-19 lockdown has had a pronounced influence on the everyday lives of South Africans' and can be quite daunting or anxiety-provoking for many. Many recreational activities and forms of entertainment we previously engaged in may now be inaccessible, but there are still many things to do to stave off boredom.
If you are someone who enjoys playing computer games and are looking for something new to pass the time, then the following list is the perfect compilation of go-to games that can be found on Steam (and often go on sale) or are available online.
1. Cards Against Humanity
Well, yes, technically this is not a computer game as it is usually played with cards, but it is still a great game that is sure to make you laugh. The game provides you with a creative way to hang out with your friends during the lockdown and can be played free online here.
Cards Against Humanity consists of fill-in-the-blank statements which players must then complete with cards with offensive or risqué words or phrases on them. The title of the game actually refers to the phrase "crimes against humanity", so it is fair to say that the game is not for the faint of heart or the sensitive souls. If you deem yourself a master of dark humour or if you enjoy making people laugh at very inappropriate jokes, this game is perfect to play for two or three hours.
2. Fallout: New Vegas
The game may have been released in 2010, but is still worth playing a decade later, and will still be worth playing in even four decades. It is a definite must-play game and you cannot consider yourself someone who is well-versed in role-playing video games if you have not yet pumped at least 30 hours into this amazing post-apocalyptic and action-packed game.
Fallout: New Vegas, developed by Obsidian Entertainment and published by Bethesda Softworks, is the fourth instalment (of six) in the Fallout series and can easily be viewed as the best. Do not think twice about playing this game just because of Bethesda's contribution. The game may be in the same series as the disastrous Fallout 76, but it is superior.
Play as a courier in the Mojave Desert who tracks down the man who tried to murder you. To add many secrets and easter eggs, the player can also choose the Wild Wasteland perk. The karma system will also ensure that players carefully consider their actions before doing anything that might affect the rest of their playthrough. Also, do yourself the favour of buying the DLC and looking at some of the available mods to add extra content. Watch the trailer here.
3. Lightmatter
Released in January earlier this year, the game is similar to Portal and is a first-person puzzle game. The game was developed by Tunnel Vision Games and Tunnel Vision Games ApS and published by Aspyr. It can best be described as a type of "the floor is lava" game, but instead of lava, there are shadows that kill you.
If you are unsure of whether this game is for you, you can play one hour free and your progress is saved. Just remember to watch your step and avoid the darkness. Watch the trailer here.
4. Rocket League
If you think that the concept of cars playing soccer sounds strange, you are correct, but do not overlook this gem of a game just because the concept sounds ridiculous. Rocket League is a smooth and fluent arcade-style soccer game, but is played with cosmetically customisable vehicles. It includes a splitscreen option for up to four people and supports eight players in online play. Players can engage in competitive or casual online matches, hockey and basketball-inspired modes, or even a mode where players can change the rules entirely. Rocket League was developed by Psyonix and Panic Button Games and was released in 2015. The game is one of the most critically acclaimed sports games and is the winner or nominee of more than 150 Game of the Year awards. Watch the trailer here.
5. Subnautica
Subnautica was released in 2014 and was developed and published by Unknown Worlds Entertainment. In this visually stunning game, the player descends into the depths of a whole underwater world on an alien planet known as 4546B. The player's spaceship crashes on the planet's surface and what follows is an action-adventure open-world survival game filled with marvels, but also great dangers. The player is left to scavenge, craft and survive whilst building underwater habitats when they dive into the vast underwater world. Throughout the game the player will unravel the mystery of what is happening to the planet and its creatures and what caused their spaceship to crash. Watch the cinematic trailer here.
6. Grand Theft Auto V
Released in 2013 Grand Theft Auto V is the first main entry in the Grand Theft Auto series since 2008 and certainly holds up to, and even improves on, the standard set by its predecessors. Gamers have developer Rockstar North and publisher Rockstar Games to thank for this fun packed action-adventure game that follows the lives of three criminals.
In Grand Theft Auto V players find themselves exploring the fictional state of San Andreas, which is based on Southern California, on foot or by vehicle while attempting to commit heists and evade powerful crime figures and law enforcement. Throughout the game the player will control and switch between three lead protagonists whilst roaming the city of Los Santos, based on Los Angeles, during and outside of missions that involve driving and shooting gameplay.
Furthermore, the game's online mode, Grand Theft Auto Online, adds a multiplayer mode in which up to 30 players can either work together or compete against each other in different game modes. Watch the trailer here.
7. Damned
Damned, developed and published by 9heads Game Studios and released in 2013, is an online horror multiplayer game for up to five players (with four survivors and one playing the monster). You can either play as a survivor who is trapped in different haunted places, like hotels or hospitals, and is
trying to find their way out whilst helping your friends, or you can play as the monster with the sole intention of finding and killing the four survivors.
This game plays on psychological fears and ticks all the boxes of what makes something scary: you are trapped, defenceless and you cannot even see properly. To make it even worse, you do not know where the monster is, when it will show up or even what exactly it is.
Damned is definitely worth buying and it will keep you on the edge of your seat as you have no choice but to run from the monster. You cannot directly affect it and you are left defenceless against a supernatural force. Furthermore, almost all aspects of every stage is randomised, which leaves the game, unlike most horror games, unpredictable. This includes what objects and items appear during the stage, what events occur to scare the survivor, and even the way a survivor can win a match. Watch the trailer here.
8. Terraria
Despite being released in 2011, this sandbox game still holds up as a great game. Re-Logic really outdid themselves as developer and publisher, and even after developing a beautiful and full game with almost endless possibilities, they are planning on releasing the fourth and last major update, Terraria: Journey's End, sometime in 2020. Terraria presents both a single and co-op option where the player(s) can be creative whilst exploring, building and fighting in randomly generated worlds in order to find new raw materials to craft better gear and create new items. If you are not the creative type, you can also opt for a combat focused playthrough and take on different enemies and bosses. Watch the trailer here.
9. Paladins
Paladins is an online PvP (Player(s) versus player(s)) and team-based fantasy shooter game released in 2016 by developer Evil Mojo Games and publisher Hi-Rez Studios. It includes a play style for every type of gamer and you can use guns or magic and customise your abilities. The player can also choose between a range of champions and can be anything from a human to a dragon, a goblin and more. Players can try all champions to find the character with the abilities that best suit their play style and with the deckbuilding system, players can choose between many cards to customise their experience and champion. Furthermore, Paladins is free-to-play and even though cosmetic items can be purchased, anything that affects gameplay can be unlocked through playing. Watch the trailer here.
10. The Just Cause series
Last, but most certainly not least, is Just Cause, the action-adventure series developed by Avalanche Studios and published by Square Enix and Eidos Interactive. The series consists of four games, with the first release in 2006 and the latest release in 2018. Just Cause centres around different factions fighting for control over the island and the player plays as Rico Rodriguez in the open world islands and archipelagos inspired by real world locations, such as the Caribbean, Southeast Asia, the Mediterranean, and South America. Besides completing the main storyline, the player can go exploring the islands, partake in optional side missions or just create chaos. Overall, the game is open and non-linear and players are free to complete storyline missions at their own pace. Watch the trailer for Just Cause 4 here.
Even though release dates of upcoming games have been set back due to COVID-19, we still have many older games that are fun to play and will chase the boredom away.