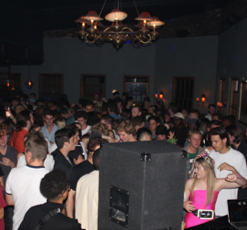 BY JEAN-MARIE UYS
THOSE who have been in Stellenbosch long enough might have known the space above De Akker as Hank's Whiskey Bar. The Loft Events and Co. (better known as The Loft) is, however, the new kid on the block and you might want to get ready to have your shoes shaken off.
It all started nine months ago when James Faure, a fourth year BEng (Industrial) student, and Seb Prentice, a fourth year BCom (Management Sciences) student, seized a rare opportunity. Both Faure and Prentice were employees at Hank's Whiskey Bar, and when the company struck on hard financial times, they glimpsed a chance for something new to be born out of the ashes. Together with Mario Papadakis, they made a mutually beneficial deal with the bar's owner. While previous management provides the spacious venue and bar, Faure, Prentice and Papadakis now provide the entertainment.
Heavily influenced by the Cape Town clubbing scene, The Loft's DJ will have you moving to a wide variety of genres. A typical night kicks off with some easy disco beats and, as the floor starts to fill up, transitions into techno and deep house. Themed nights are, however, the main focus. According to the owners, these help to achieve the aim of incorporating as many students as possible and to achieve a certain level of diversity.
The Loft Events and Co. ownership says that they take pride in and strive to diversify their events as much as possible. There is a certain risk involved in constantly mixing it up, which is why, Prentice argues, other places in town have been so successful. People seldom travel away from the norm they have set for themselves and stick to the same old same old.
At The Loft they felt that there was a need for a more mature manner of clubbing in town for students between 20-24 years old. Faure says they plan to host more live events in the future to create a larger platform for local artists.
Having attended one of their events, I can say that the venue was always kept clean. No broken glass under my feet and no wet wipes needed for my shoes the next morning. Although The Loft is quite removed from the usual buzz, safety is not really something to be bothered about. There are always a lot of feet downstairs at De Akker and the owners encourage party-goers to Uber home. Doors are open every Wednesday and Friday night from 20:00 until late. More information regarding themed events and specials will be made available on The Loft's Instagram and Facebook pages in advance.