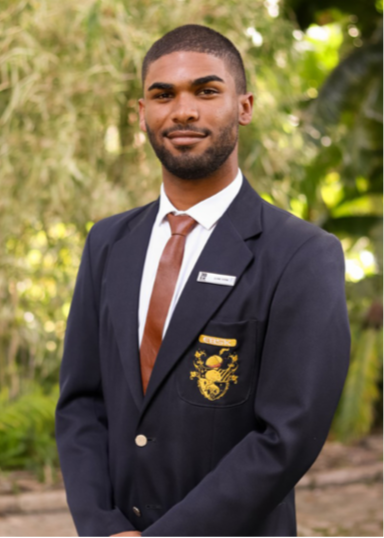 REJECTED: POC, Queer & Determined
LUKE YORK
Before I even get started, let me say this: Male Residences play a huge role in the perpetuation of toxic masculinity which leads to all forms of Gender-Based Violence (GBV) and instils these values in first year under the guise of "tradition" and "culture".
I arrived at Dagbreek Men's Residence in 2017 immediately aware that I was at a disadvantage. I was an English, coloured, gay man coming into a space dominated by Afrikaans cisgender-heterosexual males. However, this didn't deter me from wanting to make my mark and make a change, but no matter how many committees I joined or how many handshakes I gave, it was apparent I would never be "a true Dagbreker".
This is my experience of Dagbreker… In orientation week I was told to memorise the names and details of my HK and only address them by their surnames to afford them the respect they apparently deserved. I had to attend meetings at 23h00 in the evening dressed in a full suit and like a soldier in the army addresses generals. At these meetings we were taught by speakers "how to be a man" (mostly based in Christian values), what it meant to be a Dagbreker and the infamous 5 rules and values each Dagbreker should hold dear to their hearts.
We had to be outside at 6 am, standing at attention ready to go for jogs that apparently fostered "brotherhood". And when Simonsberg Men's Residence allegedly came to steal the Eiffel, we were pushed into a dark room and shouted at "Wat sal jy maak vir Dagbreek? Sal jy vir Dagbreek baklei?" with the expected answers being "Alles en ja, Meneer!". Of course, we had a "choice" in whether or not we wanted to participate in any of these events but let's be real the only choice I was faced with was either conform or be exiled.
And as my time in Dagbreek went on I realised that no matter how you come into Dagbreek, you will be forced into a mould and the only thing that matters is "Hanging with the gents on the Quad", rugby and how many huisdans invites you can get (and then bragging about it on section group chats). Still, I had not given up on making my mark in Dagbreek and ran for Mentor but when I got elected it felt more like I was simply a diversity-card to be the one person of colour in a group of 23.
Dagbreek's lack of representation and diversity is quite visible through its leadership – in a HK body of 20, there is also only one person of colour. However, after 2 and a half years of living in Dagbreek, enough was finally enough and with the recent GBV-movement, I felt it was finally time to tackle not only Dagbreek's culture but also the culture of every Men's Residence on campus.
At the protest on 6 September, I voiced my opinions and exposed Dagbreek's values but when I returned to Res I was met with angry glares and whispers asking "Is daai die ou?". Just as I had expected: these men were angrier about their rules being leaked than the greater GBV-movement. I honestly did not feel safe anymore and requested to be transferred. In my opinion, a serious reformation of Men's Residence culture needs to happen if we expect any change. We need people like Stan Du Plessis, who is not only a member of the Rectorate but also a former Dagbreker, to stand up and say #EnoughIsEnough and address the toxic culture.
Because in the end, this toxic culture only feeds further into the epidemic that is Gender-Based Violence.