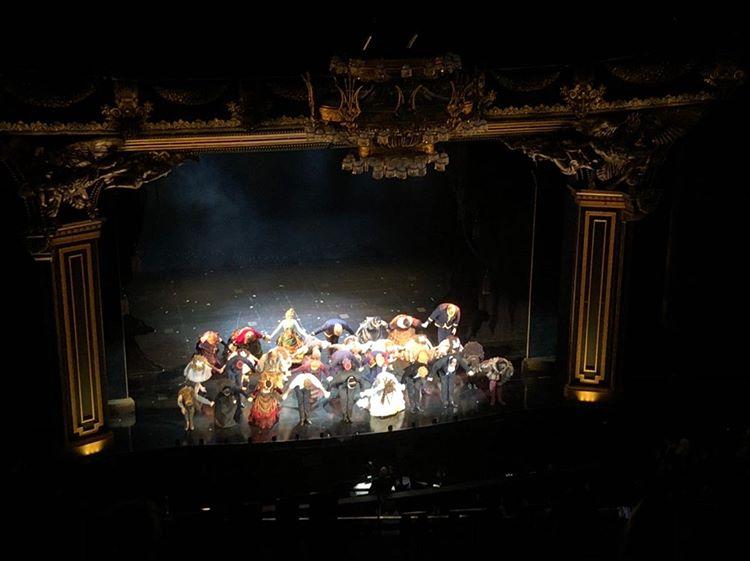 ---
One of Stellenbosch's very own starring in a world-renowned musical. Kathryn van den Berg interviewed a relaxed Phantom cast member on break from touring the world.
The Phantom of the Opera is a name that we all know and is one of the first that comes to mind when we think of the theatre. Oliver Rhys Druce, a 2018 Stellenbosch BA Music graduate, sat down with Kathryn van den Berg
to share his experience of being a part of the Phantom of the Opera World Tour.
Oliver is a twenty-three-year-old former Stellenbosch student who is currently on a break from touring the world as a member of the cast for The Phantom of the Opera. The world tour is being spearheaded by Pieter Toerien and directed by Hal Prince. When asked how he became involved with this tour, he said that "it was sort of a rushed series of events because at the time, we were doing Die Fledermau at Artscape during the Suidoosterfees last year".
A few emails were sent to music students and Oliver received one from his lecturer in which she encouraged him to audition for the tour to gain some experience in the field of performance audition. The fact that this was an open audition, which means that anyone could audition, was further motivation for Oliver's decision to apply.
On the topic of the audition, Oliver said that it was very relaxed and the people were welcoming and enthusiastic. "The day after we finished Die Fledermaus, I went to the audition and sang two songs that were supposed to show them my talents. Directly after the first audition they asked me if I was able to do a call back the next day and I said, 'of course I'm availa-
ble!' because I went there with the intention of just doing this for the
experience.
It was a very relaxed audition" explained Oliver with excitement at the memory. Although a large portion of the cast chosen for this tour were previous cast members of the last world tour, soon-to-be graduate Oliver arrived at the call-backs after preparing "some dialogue and singing excerpts for me to look over, which I did as best as I could, so that I could be able to respond and interact with the judges".
Oliver spent about an hour in the call-backs and recalls a particularly proud memory in which the musical director for the whole show, Kristen Blodgette, said his voice was "velvet''. On the topic of the creative group, Oliver said that "the whole creative group has huge amounts of experience and are phenomenal: you know you're in good hands with them."
About a month and a half after the call back, Oliver received an email asking if he would be able to tour for two years with the company, along
with a contract. Oliver holds a two-year contract from the beginning of 2019 and goes to the end of 2020. "On the 2nd January we left for Manilla, which is the capital of the Philippines, where we met the whole cast and spent a month and a half in rehearsals."

A great portion of the cast is split between South Africans and Americans. Naturally, there are big names in the South African industry like Jonathan Roxmouth who plays the Phantom. In between laughter while telling this story, Oliver said that "for the first two weeks of rehearsal, we actually didn't have a Phantom because Roxmouth was still busy with Chi-
cago in Shanghai."
The opening night of the World Tour was on the 20th of February but, before that, the team went through a series of previews which are essentially paid audiences who watch the performance in order for the creatives to get the opportunity to put the cast on stage and give feedback thereafter.
After a month and a half of performing in Manilla, which Oliver said is "a beautiful country filled with natural splendour but busy as hell… I've never seen traffic like that in my life", the tour took a break and Oliver came back home. The tour then spent a month performing in Singapore and Malaysia. They are now back from Malaysia and will be setting off to Tel Aviv on 9 August.
After that, the tour goes to Dubai, a few cities in South Korea, Hong Kong and, finally, Taiwan. In describing his role in the cast, Oliver explained how he is what is called a 'male offstage swing' of which there are two. This job is to be the understudy of everyone. "So, when someone has to cover for someone else, the swing goes into that role. For example, my most common role that I've done is Passarino. He's not a gigantic character- he's an ensemble member and the man who plays him is actually the phantom understudy.

When he fills in for Roxmouth, I take the role of Passarino. Between the other swing and I, we do 12 roles." When asked what the closest call was when he had to go on stage, he explained how "the closest we had it was about 20 minutes before the show started, when Roxmouth, who was already in full costume and make up, suddenly fell ill and couldn't perform.
The Phantom's understudy then had to take his place and I was put on in Passarino's place. It was a rush because I had to get dressed and warm up very quickly luckily they can delay the show for a minute or two which makes a huge difference in the world of quick change." Oliver's advice to students who aspire to his situation is to "take every chance you can to audition and get your foot in the door. Start somewhere and don't be too intense on yourself. Let yourself thrive in an environment that you enjoy".
He was adamant on performance needing to be something which you enjoy, because it is apparently very difficult to try keep control of your mental health when you're on tour. "It is a big problem," said Oliver. However, luckily, "It's not something I've struggled with hugely because I'm blessed with a solid rock in my girlfriend who is amazing – I speak to her every night." There are a lot of people on the cast who don't have that support system and "we see them crumbling."

Oliver elaborates by saying that "there isn't a standardised way that mental health is controlled, and there is such a stigma that you don't really show if you are struggling." Despite this Oliver admits that he has "not even one regret ‒ It's a beautiful life and it's amazing to be able to experience the different cultures."