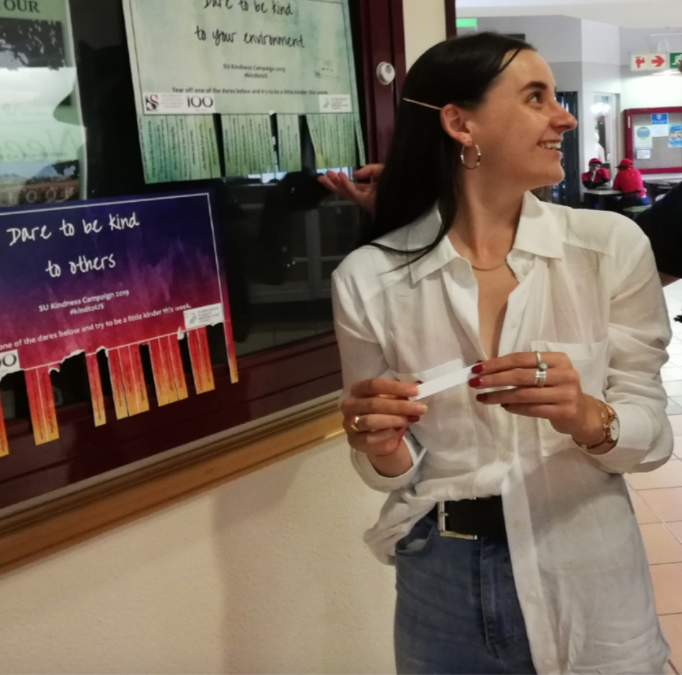 Students accepting the 'dare to be kind' challenge
---
KATHRYN VAN DEN BERG
Besides posters and advertisements put up by society organisers, FinAcc tutoring service providers and second-hand book salesmen, the Neelsie's walls are decorated in colourful A4 posters with headings that speak of kindness.
'Dare to be kind to your- self' is one such example of the 'Kindness Campaign' poster with pull-off statements which challenge students passing by topull off a tag and, for example,'Dare to be kind to the environment' or 'Dare to be kind to others'.
Van Wyk Venter, a fourth-year BMus (Bachelor of Music) student, said that he was walking with a friend and pulled off a tag from a pink poster titled 'Dare to be kind to others'. The tag challenged Venter to "offer to carry something for someone" which he did, offering to "carry [his] friend's backpack".
Hannah Lester, a final-year BAMusic student, is one of the cam- paign's founders who organised poster design and admin. She said that in September last year, she realised that not only was there a want for this kind of campaign, but there was a "need for kindness" on campus.
Lester said that "every single person has the innate ability to be kind, but we often forget that we can be". In explaining how the campaign started, Lester told a story of how a student (who is not named) had a bucket list for their university career, and on it was 'buy a stranger a cup of coffee'.
After having paid for a stranger's coffee, the student was aware of people around her seeing this act of kindness and accepting it by paying for the coffee of other people standing in line.
Megan Wallace, a Visual Studies Honours student, admits that the kindness posters in the Neelsie made her laugh and brightened her day. Wallace said she laughed when pulling off the tag from the 'Dare to be your kind to yourself' poster that challenged her to 'take a nap'. "I will definitely accept this challenge – I just submitted an honours assignment and am seriously sleep-derived" Wallace said.