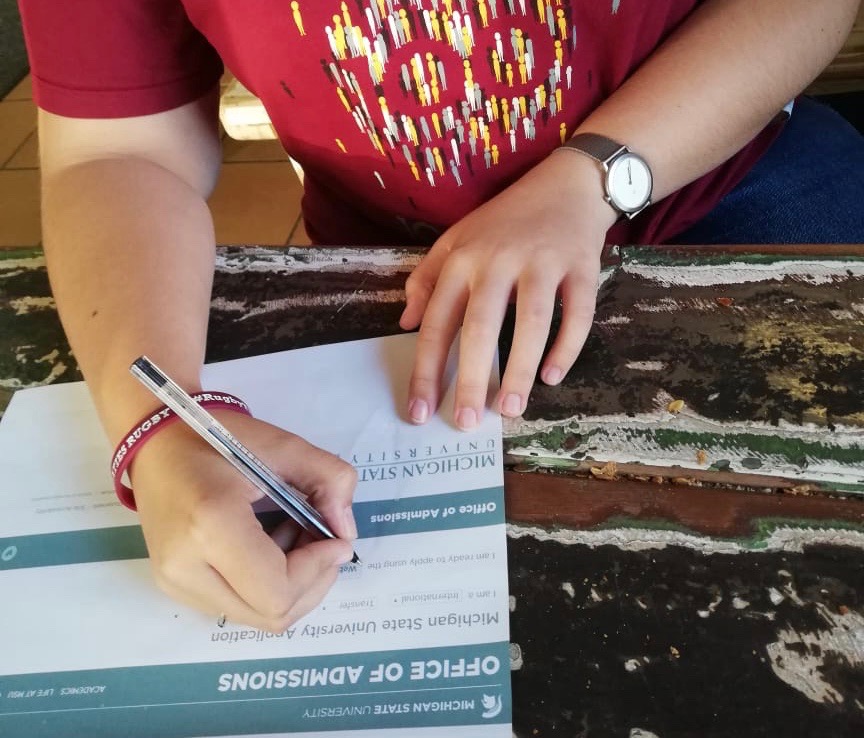 Ubuntu bou brûe tussen die US en die MSU
DIT IS MAKLIKER OM IN AMERIKA TE STUDEER Studente wat aansoek doen na die Michigan-universiteit terwyl sy met trots 'n Maties-band dra.
ZAHLE ELOFF & LARA VAN HEERDEN
---
BY 'n amptelike seremoniële aangeleentheid het die Universiteit van die Staat van Michigan (MSU) en Universiteit Stellenbosch (US) 'n memorandum van verstandhouding (MOU) onderteken, wat instem om samewerking in navorsing, die gemeenskap en onderwys, tus- sen die Verenigde State (VSA) en Suid-Afrika te bewerkstellig.
Hierdie ooreenstemming het tot stand gekom ná die twee universiteite die Andre W. Mellon-stigting genader het.
Hierdie stigting verskaf reeds 'n drie jaar toelaag om die bestaande Ubuntu Dialogues-projek wat die
US en MSU het, te finansier.
Die projek delf in kwessies van kulturele erfenis en maatskaplike geregtigheid en het die doel om 'n
raamwerk wat die betroubaarheid en bestendigheid van universiteitsmuseums bevorder, te ontwikkel.
Die projek spoor ook samewerking vir die sirkulasie en sameskepping van kennis aan. Oorspronklik was Ubuntu: Museums and Communities Connect se inisiatief om 'n toelaag wat deur die MSU se Alliansie vir Afrika-vennootskappe gegee sou word, beplan.
Dit sou wees om die moontlikheid daar te stel vir aanlyn-gesprekke tussen studente van die twee instansies, maar daar is besluit dat die Ubuntu Dialogues-inisiatief 'n twee jaar lange internskap-geleentheid by vennoot universiteite in die VSA gaan bied.
Hiermee sal studente aan uitruilprogramme tussen die US en die MSU kan deelneem.
Die instellings hoop om die gaping tussen universiteite asook die Noord-Suid "digitale-gaping" te kan oorbrug.
"Wat hierdie ooreenkoms anders maak as ander, is dat dit die eerste keer is dat die twee universiteite hul samewerking in die vorm van 'n ooreenkoms formaliseer," sê Bongani Mgijima, direkteur van die US Museum.
Dit het erfenis-beroepspersone in Suid-Afrika in staat gestel om instansies in die VSA te besoek en
moontlike verdere samewerking te bespreek en saam te beplan.
Die ooreenkoms was dadelik van krag, nadat beide partye dit op 21 Februarie onderteken het en dit beteken dat hierdie program vir die volgende drie jaar, tot en met 2021, van krag sal wees.
Die MOU sal gesamentlike sosiale impak projekte tussen die twee universiteite steun, professionele ontwikkeling en die uitruil van personeel, studente en navorsing, asook die ontwikkeling van samewerkende versamelinge en uitstallings.
"Die toelaag is aan voorheen benadeelde studente, beide uit Suid-Afrika en die VSA, beskikbaar," sê Mgijima.
Die MOU maak dit egter duidelik dat "die instansies hulself aan 'n beleid van gelyke geleenthede, nie-diskriminasie en regstellende aksie voorskryf.
Die programsaktiwiteite en fasiliteite is aan almal beskikbaar, ongeag, ras, kleur, gender, geloof, nasionale oorsprong, politiese oortuigings, seksuele oriëntasie, huwelikstatus, gestremdheid, lengte, gewig, veteraan-status, ouderdom of familiestatus. Vir meer inligting in verband met die Ubuntu Dialogues, skakel 0218083691.
Photo: Thomas Marais