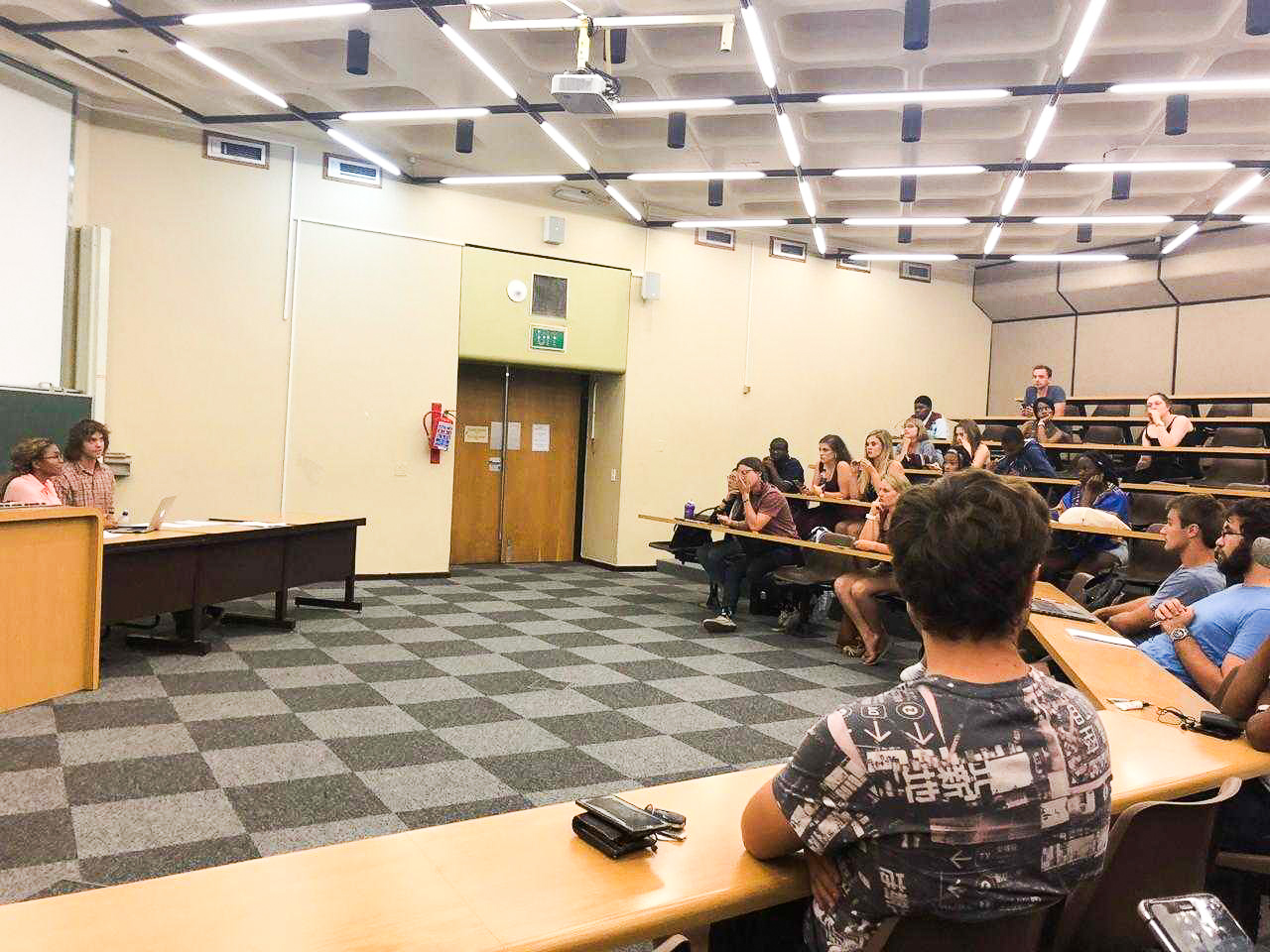 Societies face financial stress
ROXANNE MOONEYS & KATHRYN VAN DEN BERG
---
Various societies at Stellenbosch University (SU) did not receive full pay-out of their membership fees last year. According to the representatives of societies to whom Die Matie spoke, the funds that were not paid out were generated from membership fees. Societies that were affected by this issue include the Stellenbosch chapter of the United Nations Association of South Africa (UNASA), the University of Stellenbosch Consulting Society (USCS) and Students for Law and Social Justice (SLSJ). According to Hannah Lester, Societies Council Chair for 2017/2018, the process for submitting a society's signup sheet and then deducting fees works as follows: students signup at either first year societies fair, general societies fair, or via the societies portal on MySun; the Societies Council Chair then verifies that the information is correct, signs the document and sends it to the Student Fees department; and the money is then debited against each applicable student's account.
Luke Waltham, chairperson of UNASA, stated only a percentage of their signups were processed. "We had over 300 members, and only around 100 were able to pay because of the stuff-up that happened," he said. Waltham, with the approval of the UNASA head office in South Africa, expressed his disappointment with the way the situation was handled in a letter to the Student Fees department and Student Governance.
Lester admits being responsible for UNASA not receiving their funds as she neglected to resend a corrected version of their signup sheet to the Student Fees department as she was dealing with "personal trauma" at the time. "It was never deliberate or intentional. It was an incredibly emotional time for me, and I am not denying it happened," said Lester.
Lester said that she realised in August of last year that she never sent the corrected version to
Student Fees. Together with Student Fees, Student Governance and UNASA, she then attempted to rectify the situation, but the fees could not be debited against students' accounts as it was past 15 August, the date by which student accounts close. She stated, however, that similar mistakes that happened with other societies' fees could not be blamed on her.
According to Wim Strydom, the treasurer of USCS, he has accepted that the money that was lost cannot be recovered. Emily Barnes, chairperson of SLSJ, said that SLSJ last received a pay-out of membership fees in July last year, and that it had been communicated to them that for this year the society would receive their funds in May. "Being a non-profit organisation, membership fees are our only form of income to function as a society," said Barnes.
Emma Swart, the acting chair of the Societies Council, stated that the current council members are facilitating a communication between all parties involved. The Societies Council is also conducting further investigation into how this issue came about. "In a meeting on 15 February (where societies' representatives, executive members of the council and representatives from Student Governance were present) it was brought to my attention that in order for a sound argument, all sides and parties need to stipulate how this issue came about and where the problem lies. In order for this to happen, another meeting will be held soon to look into the sequences of the events,'' said Swart. She further stated that once clarity has been reached on how exactly this situation came to be, discussions on the way forward will take place.
When approached for comment, Anele Mdepa, Student Governance manager at SU, stated that he could not comment on the matter as he was working with the affected societies to resolve the matter.
Photo: Luke Waltham