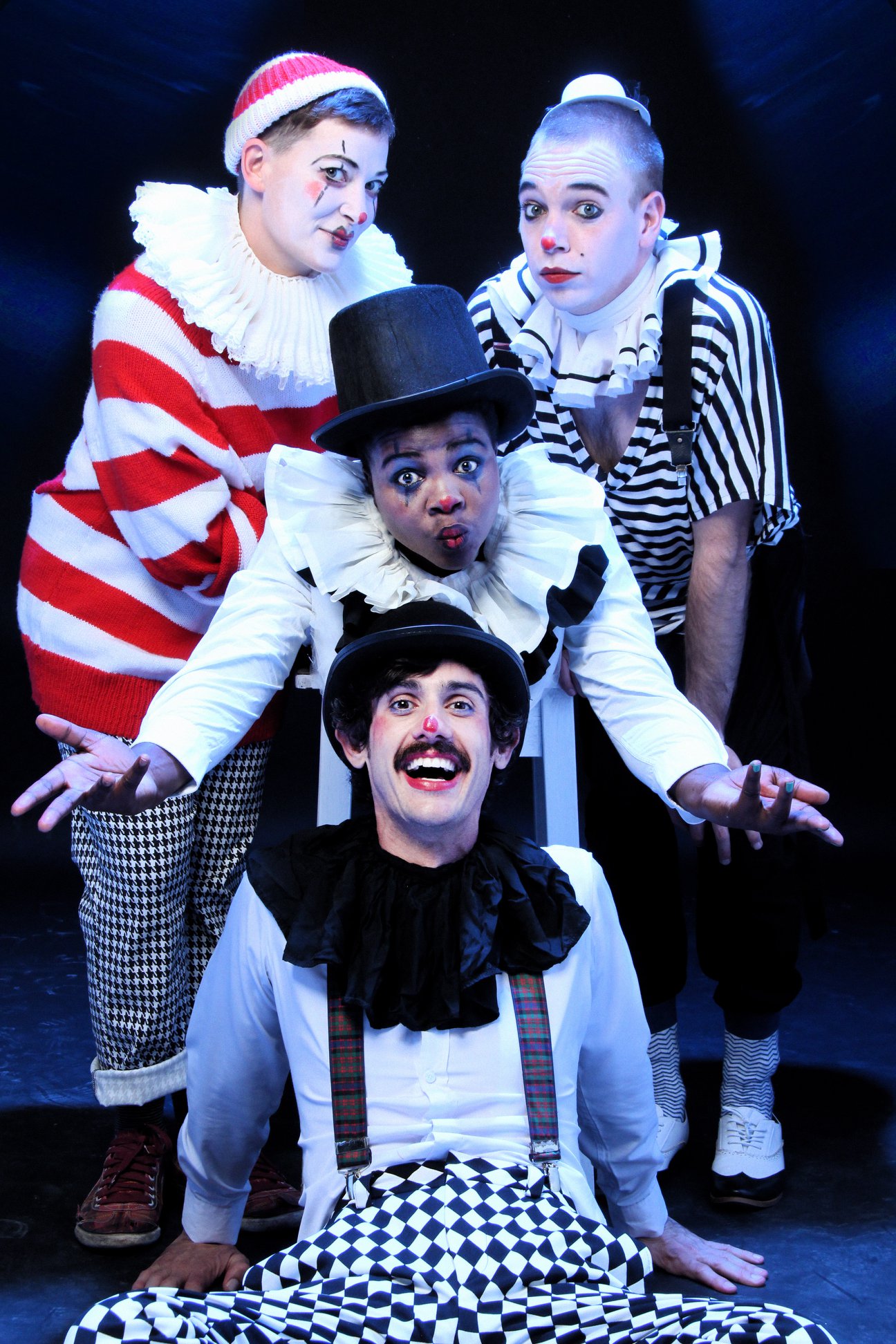 No Afrikaans? No problem!
CLOWNING AROUND The cast of Babbelagtig.
ZAHLÉ ELOFF
---
Woordfees is commonly perceived to be only Afrikaans, however this article will show that it can be experienced by everyone awaiting artistic entertainment.
If you are interested in theatre, Woordfees has you covered. Babbelagtig's cast of miming clowns who will evoke numerous emotions, including a lot of laughter. This show entertains audiences from all backgrounds as it does not contain any dialogue.
MI(SA) is one of the largest multi-lingual shows at Woordfees. Apart from Afrikaans, the show includes parts in Latin, Greek, English, Xhosa and many old Khoisan words. Doos/Box is another show not limited by language. It can only accomodate a limited audience of sixteen viewers at a time. The actor is seated in a life size box wherein the performance occurs.
Music is a language of its own, usually understood by all. The Sanlam Music Festival will bring bands to Stellenbosch such as Jackal and the Wind and Desmond and the Tutus. Haar Blues / Her Blues, where Luna Paige performs iconic songs of blues vocalists, is another promosing music event. Jazz in the Quad allows for many musicians to entertain their viewers live. For something a bit more classic, Mood Swings is a good choice.
Broken English and Alfred Adriaan & Nik Rabonwits are two of the Stand-up shows which are guaranteed to have you laughing. Stand-up is a section of art which does not require much to entertain any audience. These shows accommodate both the English and Afrikaans populous.
Film lovers can enjoy an array of films, ranging from The Tale, an English film that grapples with sexual abuse, to High Fantasy where a group of friends swap bodies and need to navigate their way back to their own lives. All films screened at the festival, have English subtitles, therefore language barriers do not limit anyone from watching and also caters to the deaf and hard of hearing community.
The writer's festival also caters for many audiences. There will be a discussion on Killing Karoline, an English non-fiction story of a girl falsely registered as dead shortly after birth and given up for adoption to hide the indiscretions of her parents.
Kerneels Beyertenbach interviews Karina Szczurek about her book, You Make Me Possible, at the discussion Our Love Letters where she will talk about the story of how she and her husband came to be.
Photo: Supplied