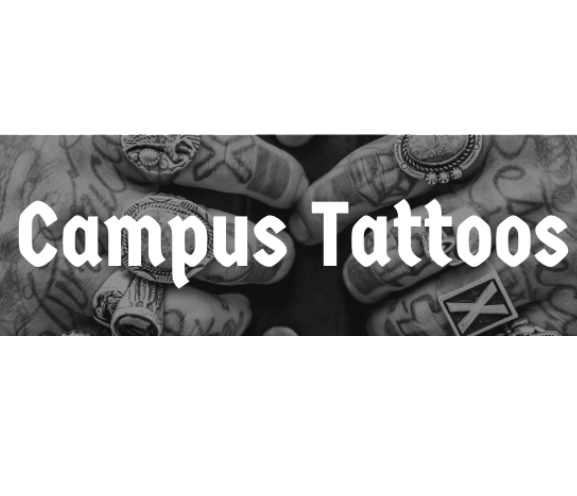 Students tend to have the most interesting tattoos on campus. Fern Bamber took a deeper look into the meanings of students tattoos and how they received it.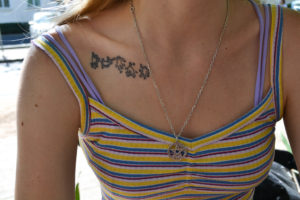 PROTEST ART
BA-student Camryn Steenkamp, who has just started her final year, was tattooed in Durban over a year ago.
She was told that she would not be allowed to get a tattoo before she turned 21, but managed to convince her mom otherwise. She was given a special price for her tattoo which amounted to R100 .
It is inspired by an art piece by Keith Haring, a famous protest artist for gay rights in New York during the 1980s.
He progressed from graffiti on the subways to exhibitions in top galleries around the world.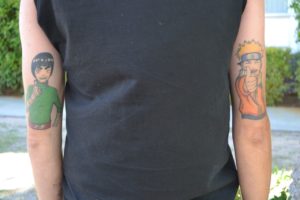 NARUTO NINJA
Dirk Brand, who has just begun his first year in Stellenbosch as an Education student, was excited to tell us about his ninja tattoo.
He has many tattoos on his body as well as two ninjas on his arms and chose one ninja, which is inspired by the Anime manga series "Naruto", to be photographed for Die Matie. Dirk was tattooed inBeijing last year in July and paid the equivalent of R10 000 for his tattoos.
"My ninja, for me, represent hard work, guts and the will to never give up."Dirk is originally from Cape Town.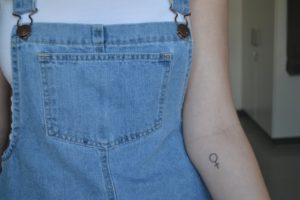 ALL ARE EQUAL
Second year BA-student, Emma Carstens had a lot to say about her minimalistic Venus tattoo. She paid 1 500 Thai Baht for it during her time in Bangkok. "This converted is approximately R650", said Emma. She grew up in a liberal household where her parents encouraged the belief that no gender or sex is superior to another. "I don't believe that tattoos have to have deeper meaning. They can also be for aesthetic purposes and serve to enhance one's appearance. It's ironic because this tattoo has huge meaning to me," she said.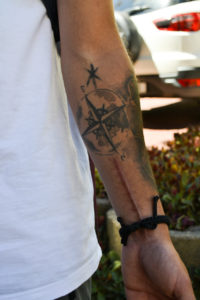 MAP IT OUT
Luke is a first-year marketing student at Boland College, hailing from Kuilsrivier.
"My map has meaning. It doesn't matter where you're going in life, there is always going to be a path for you… you just need to find it."
He paid R650 at a studio near Tyger Waterfront.
Luke's noticeable scar has a very interesting background. In July 2018, Luke and three friends were involved in a car accident. One of the boys passed away, and Luke suffered a serious head injury which left him in a coma for three weeks.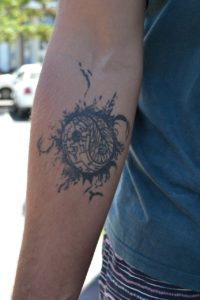 A LITTLE GOOD AND BAD
Matthew Castle's arm features an interesting take on the yinyang symbol.
The first-year BSc (Computer Science) student was tattooed in his hometown, Hermanus, and paid approximately R700.
"It wasn't as sore as I was expecting," he said.We caught Matthew between classes and he briefly explained that the tattoo's unique design was inspired by his love for robotics and engineering.
The tattoo represents his belief that work and other facets of life should be balanced.
Photos: Supplied