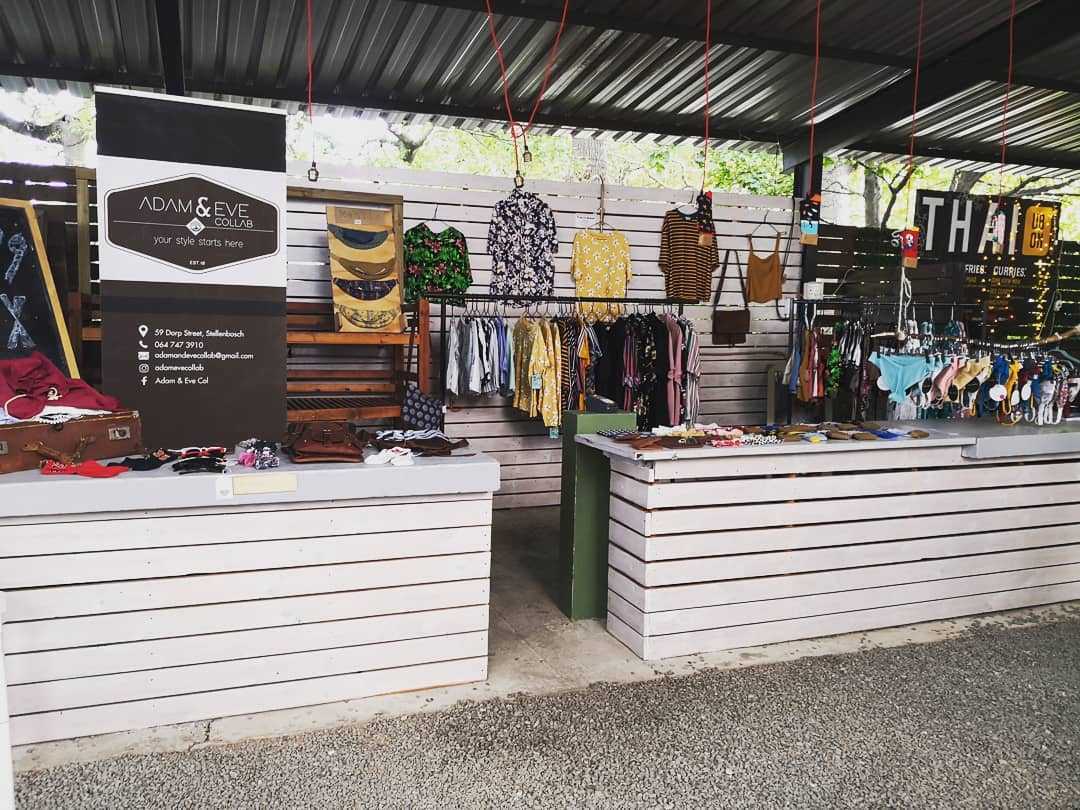 R200 en 'n rugsak en 'n klerewinkel later
SZ Minnaar
Modieuse Maties sou al 'n draai of twee by die Adam & Eve Collab in Trumpet Tree gemaak het. Hierdie winkel het 'n beskeie begin gehad, maar groot dinge wink nou op die horison.
"Ek het nooit gedink ek gaan klere doen nie," sê Danneel Stone, stigter en eienaar van Adam & Eve Collab. Hy het 'n paar draaie gemaak voordat hy op die modepad beland het.
Hy het grootgword in Bloemfontein en na matriek het hy vir twee jaar in die Rosestad aangebly om onderwys te swot. Dit was nie eintlik vir hom nie, maar hy het in daardie tyd ook ernstig rugby gespeel. Na 'n ernstige besering is hy egter permanent op die rusbank gesit en het hy besluit dat hy nie meer wil aangaan met sy swottings nie.
In Desmber 2016 het hy toe stil-stil sonder sy ouers se medewete Kaap toe gekom met net "R200 en 'n rugsak". Hy het nie geweet wat vir hom voorlê nie, maar die eerste paar weke het hy by familie gebly om sy kop 'n bietjie skoon te kry.
Sy oom het toe vir hom werk aangebied om druiwe te pars op sy wynplaas. Dit was harde werk, maar dit is juis in hierdie tyd wat die saadjie vir Adam & Eve Collab geplant is.
Dit het alles begin met 'n Hoenderdagkaartjie. Stone was effe platsak gewees en om geld te maak vir 'n Hoenderdagkaartjie, het hy 'n paar van sy baadjies op 'n aand by die Eikestad mall se stegie gaan verkoop. Hiér het iemand die entrepreneursgees in hom raakgesien en hom genader vir besigheid. So het hy betrokke geraak by die invoer en verkoop van "vintage" klere wat veral die afgelope paar jaar nogal gewild geraak het. Hy kon toe Hoenderdag bywoon en dit was dan ook die begin van die Adam & Eve Collab.
Die Adam & Eve Collab is 'n span. Hulle maak nie hulle eie klere en merch nie, maar gee vir verskillende brands die geleentheid  om hulle produkte te verkoop. "Ons is nooit gekoppel aan 'n trend nie. So as die trend verander, gaan ons saam met die trend gaan," sê Stone. Stone dink ook dit is juis hierdie model wat Adam & Eve Collab so eiesoortig en suksesvol maak. "Elke bietjie effort wat elkeen in sy brand insit, maak die winkel," sê Stone.
Die Collab staan ook nie stil nie en Stone sê daar is nog baie in die pyplyn. "Ons hoop om in die toekoms kinderreekse of sportreekse uit te bring, maar die grootse fokus is steeds op studente. Ons is hier om studente te please," sê Stone.
Oor die vakansie gaan hulle met die winkel rondtoer – hoofsaaklik deur die Tuinroete – en hulle beplan ook om die winkel bietjie te revamp. Maties kan dus uitsien na 'n nuwe winkel wanneer die akademiese jaar weer in 2019 begin.
Maar Stellenbosch is ook nie die enigste plek wat binnekort met 'n nuwe Adam & Eve Collab-winkel geseën gaan wees nie. Teen die einde van 2020 beplan hulle om in "al die studentedorpe" te wees. "Volgende jaar maak ons 'n winkel in Bloemfontein oop, dan volg hopelik Potchefstroom en dan Pretoria en Port Elizabeth," sê Stone.
Foto: Verskaf