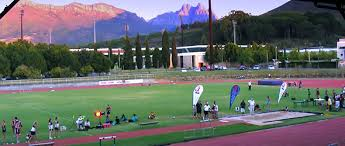 Year in Review: Maties Centenary Games
 ADRIENNE VAN DER MERWE
As Stellenbosch University (SU) turned a hundred years old on 2 April 2018, Rector Wim de Villiers addressed important questions such as: "Where do we come from, where do we stand now, where are we headed?", in his commemoratory speech. This has subsequently been projected onto several commemoratory events which have taken place – for instance the Maties Centenary Games organized by the Recreation and Active Lifestyles Unit (RALU).
As referred to by de Villiers, several changes have taken place since 1918, when Victoria College made way for the University of Stellenbosch. Therefore, the Maties Centenary Games have focused on gender fluid sports. The Centenary Games were a fun-filled sporting event which allowed SU students an active alternative to their stationary study routine. RALU provided the location and necessary equipment, but thereafter, students had to organize themselves into five-a-side teams and play in the absence of a referee. "This is very good for promoting student interaction and actually learning to speak to each other – that's a big thing," commented Kiran Maharaj from Maties Sport.
Several sports were offered, such as sand rugby, futsal (a variant of football played on a hard court) and co-ed netball. The participation of students was abundant and the activities were greatly enjoyed. "What came from it is that a male student who played netball will now start up a men's netball team" Maharaj added. This team will be gender fluid, but extra training will be offered for male athletes in order to enter a men's team in a men's netball league.
RALU has offered several sports-related activities for students throughout the year, such as group fitness sessions at residences and eSport gatherings. The student cluster with the highest overall score for all activities of the year will win a yet unknown monetary sum, which is likely to be handed over in 2019. The cluster which scored the highest points and thus, came in first position at the Centenary Games, is AmaMaties, with Wimbledon in second position and Validus in third position. This can all be found on the Maties app.
"With regards to 2019, we will continue with the Centenary Games, but we will be calling it the Matie Games," Maharaj concluded. In addition, more sports will be introduced, such as eSports and quad cricket, as traditionally played by Majuba men's residence. Students are thus encouraged to watch this space for the new academic year to come.
PHOTOS: STELLENBOSCH UNIVERSITY