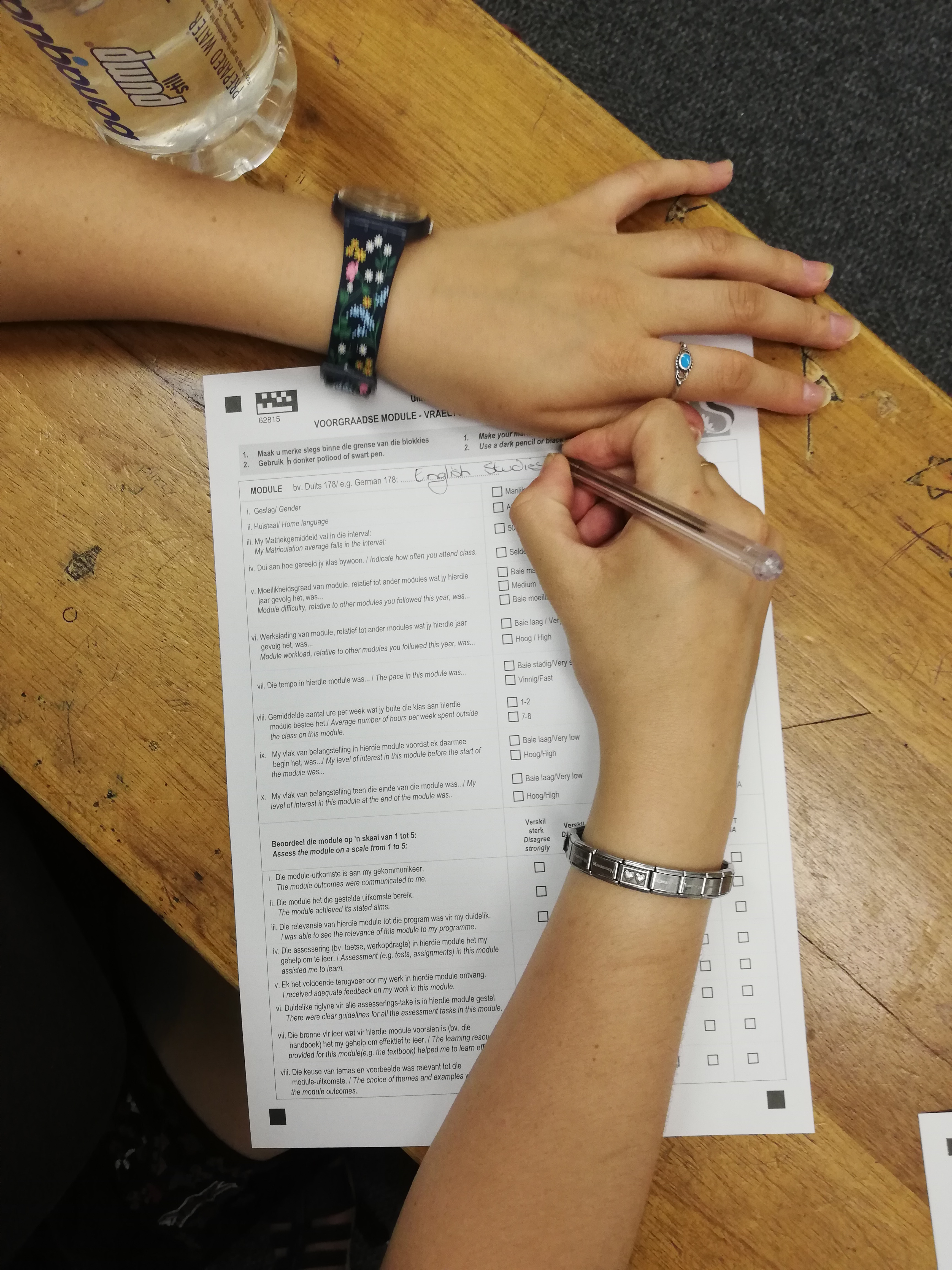 Who reads student feedback?
CARLA VISAGIE
Student feedback is a part of every lecture series or module at Stellenbosch University (SU). It enables students to evaluate their lecturers through the filling in of forms or the completion of questionnaires. The Centre for Teaching and Learning (CTL) is responsible for the distribution, processing and storage of the data, and have different faculty advisors that report to each faculty. Some of the aims of student feedback is to address aspects of the lecturer or course – like module difficulty and the effectiveness of lecturers.
This serves to empower lecturers to improve their own teaching. It also works to enhance the experience of students' learning, and contributes to the monitoring and reviewing of quality and standards. According to Dr Melanie Skead, director of the CTL, student feedback itself cannot develop learning practices, but rather influences how these practices are implemented: "It is the use of the information by the lecturer (or whoever gathered the data) for enhancing learning and teaching practices that makes the difference. The purpose of the feedback process is critical, as is the use of the information and the attitude (and purpose) with which students provide the feedback," Skead said.
She added that student feedback is a process of "action research" that aims to continuously improve and enhance teaching and learning at SU. Further, Skead said that "all relevant information is valuable, but the most useful feedback is often that which highlights areas for improvement for all concerned". Even if the feedback "appears 'negative', it is useful, often more so than feedback that focuses only on what is 'working' well (by way of example)".
Dr Melanie Petersen, a researcher who did her PhD on the role of student feedback in university teaching practices at a SU, found that reflection can help lecturers to identify aspectsof their practice that are effective as well as areas that present room for growth. "One example of how particularly negative student feedback was used to innovate a new approach to teaching, is that of a lecturer within the Faculty of Economic and Management Sciences. Who reads student feedback? He used his own experience to start a support programme in his department where new lecturers are supported to collect, interpret and respond to student feedback in constructive ways," Petersen said.
Alex van Greuning, a previous class representative in the Law Faculty, and SRC vice chair, said that student interaction is very valuable, and lecturers implement it effectively, and class representatives are an important link between the lecturer and students. "As class representative, I liked to see how lecturers implemented the suggestions the class gave them and how they really considered the suggestions to improve their teaching," Van Greuning said. Alexander Triantafillou, a Swedish exchange student doing courses in Humanities at SU, orientated the value of the student feedback system from a global perspective. "I haven't seen that the University applying student feedback as much and this is also something I saw in Sweden. I think as the professors get older they are set in their ways. I don't think it's easy for older people to consider positive criticism because they already have so much experience. I've experienced, however, that younger professors are more open to criticism."
Marissa Badenhorst, a first year BA Language and Culture student, said that students' opinions are of endless value:"Students' opinions are definitely being voiced, captured and taken into consideration through course and lecturer forms. I think the few minute's students use to fill in the forms can result in valuable input that doesn't go to waste." "The optimist in me believes that lecturers wouldn't put themselves in the position of being evaluated if they weren't open to criticism. I think lecturers do implement the feedback, because it enables them to do their jobs with more efficiency and confidence," Badenhorst said.
PHOTO: Kathryn van den Berg