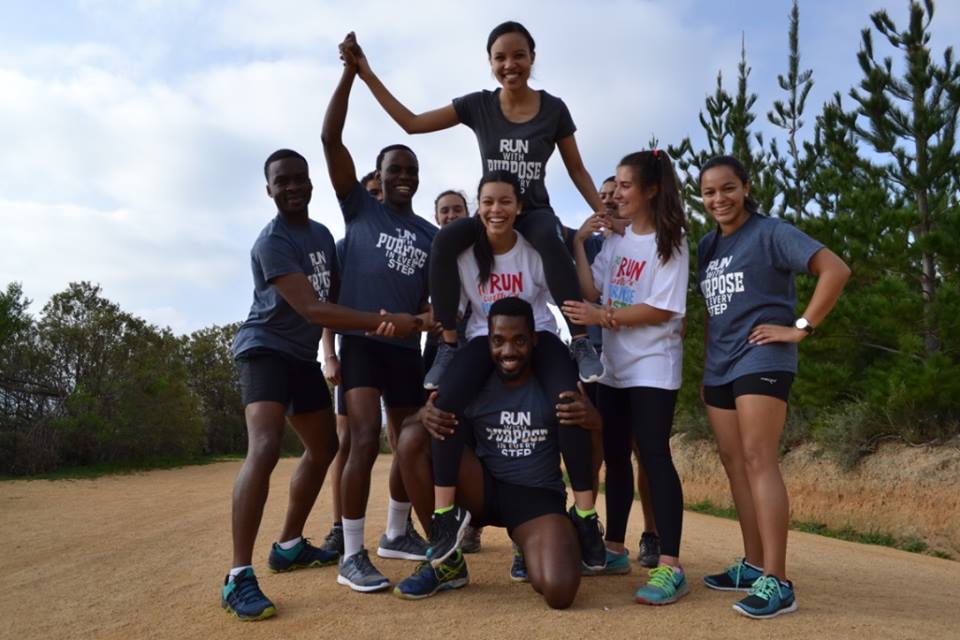 Look who's running the SU campus
KATHRYN VAN DEN BERG
Early one Wednesday morning, while on their Die Matie delivery route, an exhausted Kathryn
van den Berg and barely-functioning Janique Oliver happened upon a group of early-morning
runners. After questioning the insanity of 6am exercise, the pair decided to interview the group.
Thankfully for the interviewers, the Neelsie was chosen as the venue for the meeting and not a
running route. Vibert Padiachy, a long-time member who still runs the group (excuse the pun
– there will be many to follow), began the interview by explaining how Everyrun grew from
just five friends exercising together into a group of over 100 members.
Sitting on the deck in front of MyBrew, Padiachy was dressed the part of stereotypical athlete:
shorts, expensive shoes and, of course, calves to kill. Now a working man, Padiachy studied
accounting at Stellenbosch University (SU) and immediately emphasised how the group started
in 2015 not just as a means for people to get fit, but rather because "a bunch of friends wanted
to run together and spend time together".
On the topic of friendship, Padiachy introduced Gracia Fatuma as one of the original five
runners. Her French accent telling of her origins in the DRC, and amidst giggles and eye-rolls
when remembering how unfit she used to be, Fatuma said: "I couldn't even run one kilometre
without walking. I continued training with the group, and by the end of the year we gave
ourselves the goal to complete our first 21km run."
Fatuma studied her BCom at SU, and is now pursuing her Honours at UCT in financial analysis.
Her dedicated, driven attitude was emphasised when she expressed how "[in my first week of
joining Everyrun] I tried to run 5kms and I had injuries. But I [have] learned how to take good
care of myself if I have an injury. I know how to treat it. I can perform sport therapy on myself
that I learned from running."
Clearly, Fatuma is one of the group's most dedicated members and, through her commitment
to Everyrun, has learned how to take better care of her body. She also learned what not to eat
before a run, and said that "I found you can't finish a race if you don't eat properly". Her
knowing smile while saying this hinted at a bad experience with a poor diet choice before a run
that she didn't explain further.
Not all members of the group present at the interview, however, began their journey with
Everyrun immediately after knowing about the group. Gerald Williams, an engineering student
doing his Masters (and who takes every opportunity to express his hatred for the concept of a
thesis), betrayed himself when saying how he only joined the group to mooch lifts off members
going to races. "[I] sat on the [WhatsApp] group for about a year as one of those lurkers waiting
for opportunities to catch a lift to races. Then I was like…wait…there is something I am
missing out on here," said Williams smiling.
After deciding to step out of his comfort zone as a solo runner, Williams explained how
incredible his first run with the group was. His passion for Everyrun seemed to grow as the
interview progressed, as did his jokes and personality.
When asked if he finds Everyrun to be a stress relief, Williams exclaimed that "running
encourages you to push yourself mentally". Further, the cliché of "a healthy body healthy
mind" was added by a genuine Williams while the rest of the team reacted with sighs and head
shakes.
Giggling the loudest of all in response to her fellow-runner was Judy Mellet, a final year BAcc
student at SU who definitely thinks that running with a group of friends is the best type of study
break. "I always say that joining Everyrun is like having coffee with friends, but while
running."
"Mentally, it is so nice belonging to something that everyone is passionate about," explained
Mellet. On the topic of passion, Mellet also expressed how hers grew when she reached the
goal she set herself when she began running with the group. "My goal was to do a 21km before
I was 21. I reached my own goal, and more, by completing two."
Fatuma then followed up by explaining how running with Everyrun inspires individuals to give
themselves personal goals. "When you have a goal you'll push yourself to reach that goal, and
if you have a purpose to run you will push yourself to run – you will continue to show up."
Attention was then turned to Padiachy, whose furious nodding in agreement to what his co-
runners said once again showed the fellowship of this group. As a closing remark to what
seemed more like a catch-up amongst friends than an interview, Padiachy said the following:
"For me, I love seeing people get active. What makes this group different is just the people and
the fellowship, and, to quote High School Musical 'we're all in this together'. Run with people
who support you. If it's us, you are very welcome."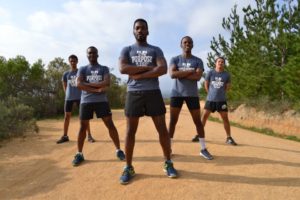 PHOTOS: EVERYRUN