LISA DE CLERCQ
Let's be frank. Sometimes life gives you lemons in a never ending supply. The story of Phumzile September – 48 year old, third year BA Social Work student at Stellenbosch University (SU) – proves, however, that no matter how hard you have hit rock bottom there is always a chance to turn your entire life around. September dropped out of high school in 1989.
"In the Apartheid years there was no motivation for me to finish school," she said. September developed an alcohol addiction, and when she was eight months pregnant with her second child her partner left her. Becoming a born-again Christian in 2007 is what turned September's life around. Her friend made it his New Year's resolution to take her to church with him. "I only went because he said he would buy me two beers when we got back," September laughed. However, when she came out of the church she "couldn't drink anymore".
Inspired by her newfound faith, September registered to complete her matric. She received her National Seniors Certificate in 2010 and then completed a course in Theology at CFC Bible College in 2012. Riding the wave of accomplishment, September was reminded of the dream she had in grade six to become a social worker. She applied to study at SU, but was unsuccessful in both 2013 and 2014. September, however, was determined to study here specifically.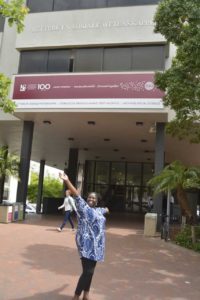 "I didn't apply anywhere else," she said. "I felt at home when I came here." In 2015 she was accepted to start her first year in Social Work at SU. September admitted that coming here to study with people who are her children's age was challenging at first. "Some people would look at me with a 'what are you doing here' attitude" she said. Since then, however, September has become a 'mother figure' to many of the students who frequent the BA building.
"Many people in the faculty call me their mother . I feel that that is one of the things I am here for," September said. Despite being a full-time student, mother and grandmother, September  is also involved in her Nomzamo community. She started her own non- government organization (NGO) last year called "Z'thande". This organization aims to instill the idea of self-love among the women of her community, who are often victims of abuse.
"We [Z'thande] want to teach them that irrespective of what is going on they must be able to say 'I am a queen. There is something bigger inside of me'," said September. In 2017 and up until August of this year, September also hosted a talk show on Elgin FM. In her show, called Nali-themba, which means 'there is hope', September would talk about an experience she had had, concluding from it a reason to be hopeful. September has been travelling by taxi to campus every day since 2015. The lack of her own transport proves problematic to her active lifestyle"My car is somewhere. I'll get my car irrespective of the fact that I am not employed".
September's mother passed away while giving birth. When faced with challenges, this, however, serves as September's greatest motivation as it reminds her that she is alive for a reason."If I didn't die then, I'm not going to die now. I'll die later – there is something that I have to do first," she said.
PHOTO: Lisa de Clerq