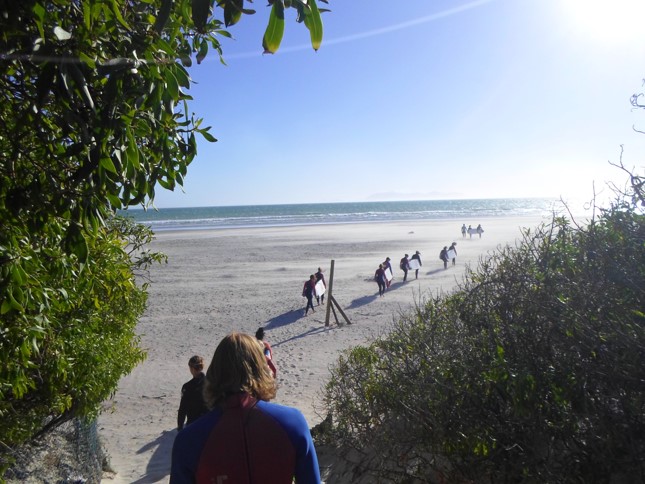 Maties Surfing: stoked since 1977
Adrienne van der Merwe & Dillon Henwood
With 21 various sport clubs, Stellenbosch University (SU) aims to accommodate the array of sport interests of its students. Maties Surfing combines the elements of nature, sea, amusement and camaraderie.
Maties Surfing was introduced in 1977 with the objective of teaching willing students how to surf. The society has a Maties Surfing team, comprising their top eight men and top four women, who compete in all the national tournaments, such as the University Sport of South Africa (USSA) Surfing Tournament. The primary aim of the Maties Surfing club, however, is to promote surfing as a sport.
Marc Moir, chairman of Maties Surfing, explained that in order to become a club member students are required to sign up at the beginning of each year with an annual fee of R900 payable. This registration ensures transport provision from January to October. Every Tuesday, Wednesday and Thursday a bus transports club members from the Neelsie to Strand to surf. This takes place at 4-7pm and members usually spend at least an hour and a half in
the water per session.
Moir explained further that they have a contract with Son Surf, a surf school in Strand, which provides them with coaches and surfing equipment. Club members who wish to receive surfing lessons by the Maties Surfing club are obligated to an additional R1 600, which includes six lessons, all the necessary equipment, transport, coaching and wetsuits. There is also a catch-up week for students who have missed lessons, which inevitably serves as a
bonus week for students who attended all six surfing lessons.
Having been the chairman of Maties Surfing for three consecutive years, Moir said that approximately 120 students learn how to surf through their programme each year. The lessons commence in such a way that even the beginners are able to follow the instructions.
They start the lessons off with demonstrating to students how to stand up on the board before teaching them about surfing etiquette, methods, how ocean currents operate and how to respond to emergent situations.
Apart from the weekly surfing trips, Maties Surfing is organising a weekend trip up the West Coast in August and a camping trip near Lambert's Bay. A surf party will also be held in August, making Maties Surfing a club you want to join.