Your ultimate guide to the perfect leather tote bag
Wianda Gilliland
Leather tote bags are more than just bags for your books – they are classy and stylish, and their durable quality makes them a fashion investment for years to come. With all the different brands, styles, prices and colours out there, it is difficult to decide which one will fit your style best. Here are our top picks for the ideal campus leather tote bag.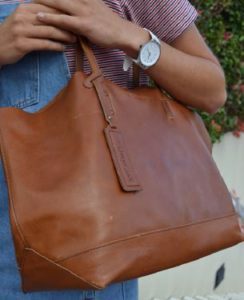 Rowdy: Tote Variation
More is less with the Rowdy Tote Variation. Classic, simple, practical – this bag will get the job done, whether it is for everyday class runs or looking stylish while shopping.
The longer strap is a nice little extra for when you want the look of a tote with the feel of a messenger bag. The leather is soft and malleable, which gives this bag a casual look and feel. It also features a hidden inner pocket, perfect for your phone and small items for easy access. However, this tote's base is quite narrow, which can cause a messy bag if you have to layer your stuff on top of each other.
It is available in four different colours: matte black, worn brown, blonde and rich wax brown.
Priced at R950, it also fits the student budget rather well.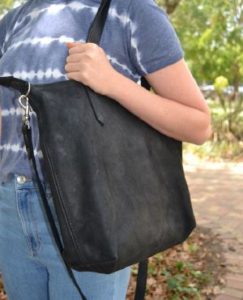 Freedom of Movement: The Jane
Robust, but classy and elegant – the Jane tote looks and feels luxurious and durable.
This tote is lined on the inside and features multiple inner pockets, as well as an easy-access back pocket with a zipper, ideal for valuables and organising your bag.
The Jane is strong and independent, as the leather is smooth but firm enough to hold the bag up and keep her shape without any help.
The Jane's size makes her very versatile – small enough to take to class but big enough to fit your towel to go to the beach.
She is also available in three colours: black, toffee and timberland (deep brown) to fit with your style.
However, The Jane's beauty comes at a pretty price of R2 295.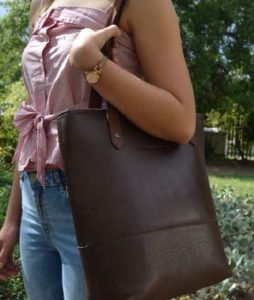 Jinger Jack: Ubud
Jinger Jack's Ubud tote is laid-back and hassle free; the ideal all-rounder. This tote is soft to touch and has a smooth waxy finish, which gives this casual day-to-day companion an element of sophistication.
This bag features a practical hidden inner pocket and is unlined, placing all the attention on the beautiful raw leather. The leather is soft and delicately strong, making it light and collapsible. The Ubud has a wide base of 15 cm, ensuring that there is enough space for everything you need without having all your belongings cramped together.
However, the Ubud's straps are quite narrow and can cause discomfort when your bag is loaded heavily. The Ubud comes in four colours: black, toffee tan, waxy tan and chestnut and is also reasonably priced at R1 990. (Jinger Jack has recently been rebranded as Zemp).
Photos: Wianda Gilliland