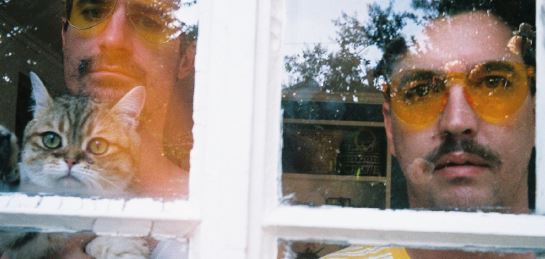 Van Pletzen het K** Lekke Vibes
Lian van Wyk
Somtyds stel 'n album aan sy resensent 'n uitdaging: aansteeklike ritmes laat 'n voet, dalk twee, op 'n monotone maat onder 'n tafel tik, maar die lirieke weerspieël dieselfde soort onbesonne sentimente waarmee so baie Afrikaanse kunstenaars deesdae hul "lekker sokkie treffers" vul.
Die elektroniese Afrikaanse duo Van Pletzen se debuutalbum, K** Lekker Vibe, is so 'n soort album. Vir iemand wat nog nie 'n bekeerde "Pletzhead" is nie, mag die musiek van Peach van Pletzen (Bittereinder en Oorlog Frankenstein) en Matthieu Auriacombe (ook bekend as NIK NAX, van Hello Beautiful en Beach Party) ietwat volksvreemd klink. Gelukkig vir hierdie twee elektrograpjasse
vermag hulle beats baie meer as om net voete te laat dans en die pure lawwigheid van hul lirieke ontlok gereeld (soms ietwat onwillekeurige) giggels.
"S**t die beats amazing," sing Van Pletzen in die eerste strofes van 'Die Beats Amazing'. Dit is dalk 'n wilde aanname, maar in hierdie geval doen die Van Pletzen-voorman se reguit woorde hom 'n groot guns: Van Pletzen se beats is dalk nie heeltemal "amazing" nie, maar dit ís bitter lekker. Van 'Dutchman Dude' regdeur na die aansteeklike 'Zaberfluten' kom Van Pletzen hul belofte na om "k** lekke vibes" regdeur Suid-Afrika te laat resoneer – met oorgawe.
Die bekende kletsrymer, Early B, verleen aan hierdie vibes sy vinnige woorde en skerp tong en maak in 'n allemintige vier uit die album se tien liedjies sy verskyning. Alhoewel hy nie heeltemal soveel van die verhoogruimte as Van Pletzen en Auriacombe geniet nie, steel hy op verskeie geleenthede die kollig met sy tongknoop-rymelary.
Daar is baie om oor opgewonde te wees in K** Lekke Vibe, maar soos met verskeie voorafgaande eerste pogings, is die poging van Van Pletzen nie immuun teen 'n paar onreëlmatighede nie. Die mees opvallende hiervan is sekerlik die lirieke, veral wanneer in ag geneem word dat die duo as satiries voorgehou word. Dat Van Pletzen homself vir die totale duur van die album se sowat veertig minute in 'n toestand van chroniese draakstekery bevind, is nie te betwyfel nie. Hierdie sogenaamde "satire" manifesteer egter nooit in suksesvolle, skerp humor nie en sy inkoherente gebrom kan maklik as sinneloos afgemaak word.
Aan die ander kant (en daar is 'n ander kant), blyk dit egter nie of Van Pletzen hulself te ernstig opneem nie. Van Pletzen voel veral dat die samelewing te ernstig geword het. Dit is hier waar die sleutel tot K** Lekke Vibe se sukses lê. "Mense baklei dikwels oor allerhande kwessies en nie-kwessies op sosiale media. Ons bied eerder 'n ontsnapping uit hierdie "besprekinge" as om aktief daaraan deel te neem," het Van Pletzen gesê.
Ernstig of nie, K** Lekke Vibes bly interessant. Luisteraars op soek na poëtiese lirieke en diepgaande boodskappe getoonset tot strelende en hartroerende deuntjies moet liefs Laurika Rauch probeer. Vir diegene wat egter bereid is om die album te sien vir wat dit is, gaan K** Lekke Vibe 'n, wel, k** lekke vibe wees.
Foto: Verskaf