Marie Mjacu
Participants of the 2018 Slut Walk chanted "enough is enough!" The walk took place on Stellenbosch University's (SU) campus on 12 April. Organised by a committee of students and supported
by the Student Representative Council (SRC), aimed to protest rape culture on campus.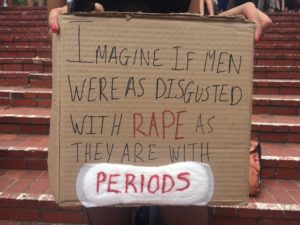 Participants gathered on the Rooiplein in the afternoon to listen to an opening address by Thembelihle Bongwana, the coordinator for the Gender Non-Violence portfolio at the Equality Unit. Bongwana paid tribute to the late Winnie Mandela with a moment of silence. This year's Slut Walks took place in April, apposite for the what is remembered as the month of freedom.
The committee decided on this because they wanted the march to advocate for the freedom of women everywhere, but especially on SU's campus.
"What is freedom without gender equality?" asked Bongwana. The march also served to highlight the notion that many female students still do not feel safe in their learning environments at SU.
Bongwana concluded her address with encouraging people to use her Gender Non-Violence portfolio to speak up about their grievances and experiences.
Rape Culture has been a subject of debate at SU since 2016 when the Rape Culture Report was released and the first Slut Walk was held in response. Rape Culture refers to everyday attitudes and actions which normalise or trivialise sexual assault and rape. These include victim-blaming, slutshaming, sexist jokes, discriminatory language and the objectification of the female body.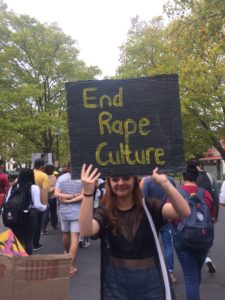 Some female students chose to walk topless at the event, mimicking the actions of women at previous Slut Walks.
When asked why they chose to walk topless, Motheo Bolele and Nambitha Bolani said that they wanted to highlight how ridiculous the double standards are between male and female nudity, and that not wearing a shirt was their way of embracing the idea of desexualising the female body.
Bolele and Bolani said that it was "liberating and empowering" to know that they can be safe in their own bodies. In her closing address, Aluwani Ramarumo, SRC member with the Womxn Empowerment portfolio, made a point to thank the male participants of the march as well.
Although they were in the minority, the men who attended the march were not overlooked and were reminded of their role in combatting rape culture, especially in a university environment.
Sechaba Madison said that, for him, the march was a very invigorating experience and highlighted the importance of listening and learning to understand things from a different perspective.
Similarly, Bongani Dlamini reiterated that as males, they had come to this event not to teach but to learn. Vuyokazi Hlawatika, one of the organisers of the march, said that she was satisfied with the turnout at the event and that it highlighted just how important discussions about rape culture still are on Stellenbosch's campus. "
The event was one of solidarity and empowerment and highlighted the idea that there is still a long way to go in breaking down the barriers to women's freedom."
Photos: Marie Mjacu