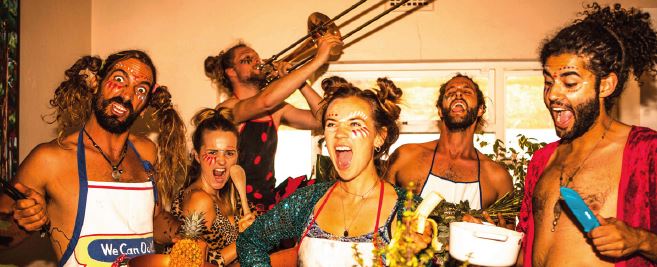 Reuniting Cape Town through the power of music
George van Dyk
Social reform and sincerity drive The Steezies to success. It's not every day you find a band that blends isiZulu hip hop with European trumpet lines within Afro song structures. Hout Baybased
musical group, The Steezies, is successfully bringing this stark degree of stylistic variation to the forefront of the South African music scene, all while dealing with societal issues.
"It started as a group of friends who loved music as a lifelong burning passion and when we reached our late twenties it became a now-or-never mentality," said George Kirkinis, vocalist and guitarist for The Steezies.
The Steezies explained that they funnel a lot of their time and efforts into addressing pertinent societal issues.
"[Our] music is an attempted cathartic attack at things that we do either consciously or subliminally as we exist today. Each song is a kind of treatise on some element of human nature that we try and garner into fun, dance (and) escapism," Kirkinis explained. He defines good music by its authenticity and states that he listens to anything where the artist's intentions are genuine, rrespective
of the genre. He expanded on this by explaining how it is always possible to tell when there are ulterior motives beyond genuine expression.
"You know when someone has one hand in your pocket and another blindfolding you. It's usually when someone is only trying to rehash trends that have been commercially successful."
Furthermore, The Steezies places great emphasis on being genuinely connected to their audience as they believe this is indicative of an immersive, memorable performance. "It all has to do with authenticity," Kirkinis said.
When asked about the South African status quo with respect to sociological and cultural factors, Kirkinis stated that "we have so much to fix". "We are still so segregated and broken and the vast majority of our country is disenfranchised and impoverished. The minority seems desperate, clawing onto what they have without sharing it."
This viewpoint, coupled with a general sense of authenticity and genuineness, makes it unsurprising that The Steezies will be running a festival called "We Are One" in September this year. The festival will take place outside of Imizamo Yethu with the purpose of "dismantling the separation between informal settlements and wealthy Cape Town through music".
"Cape Town is a horribly segregated place, but music is one of the few things that has the ability to transcend the boundaries between people – no matter how insurmountable they may seem at times."
Photo: Zoe Cornell