Campus Closet: Our eyes are on Autumn trends
With autumn peeking around the corner, it is time to change up your closet. Willow-Ruby van der Berg spotted some stylish students on campus.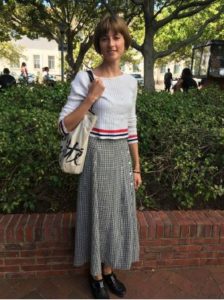 Eclectically elegant
Talya Beyers has mixed and matched her way to perfection and we love her for it.
At the top she has the preppy striped white knit which is perfect for those cool autumn days.
There is also the 80's plaid skirt and of course the lovely patent leather shoes.
She seals the deal with the Mathilda Landon bob as seen in Léon: The Professional which makes her edgy and somewhat of a street style icon.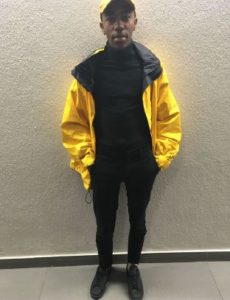 Yellow youth
Tebogo Namane has it all figured out with his combination of our two favourite looks – black on black with the yellow rain jacket.
"Winter is coming," so a black polo neck is essential for fighting the cold. Black sneakers are also ideal because they do not get dirty as easily on those rainy days.
A pop of yellow immediately brightens those dull autumn days and makes you stand out from the sea of students around you.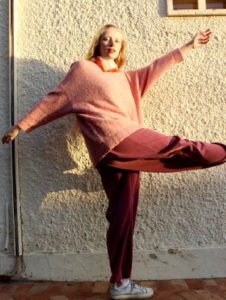 Women & wine
Surely there is nothing better to fight the cold in Stellenbosch than a nice glass of wine, be it a merlot or rosé, but why stop there?
These wine colours are perfect to wear in autumn since they resemble the colouring leaves in the background.
Maria Stallman knows how to pull off 50 shades of wine better than anyone else. With her oversized lightpink jersey and maroon trousers, she screams autumn.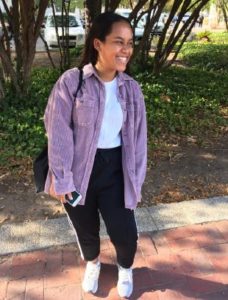 Casual corduroy
Jamie September shows us that it is possible to turn your casual outfit into an autumn style phenomenon on campus.
Sneakers are non-negotiable, especially when you need to speedwalk around campus.
Sweatpants and a t-shirt do not need to be limited to your house anymore since it is now becoming a trend of its own. The corduroy jacket is the perfect substitute for your the denim jacket.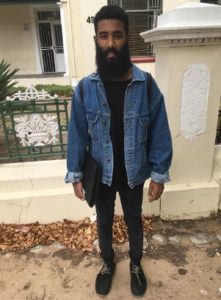 Denim devotee
In a world that is constantly changing, one thing always remains: the classic denim jacket.
Over the years it has been seen on icons such as John Lennon and Jim Morrison and these days it is seen on the icons in Stellenbosch.
Courtney Yon wears black vellies and by cuffing his jeans, he shows off his patterned socks, which are a statement on their own on campus these days. His well-groomed caps off his whole look.
Photos: Willow-Ruby van der Berg