With this year being SU's centenary commemoration, celebration lurks around every corner on campus. When we look back at the trends throughout the years, we sometimes cringe at what was considered fashionable way back when. In celebration of last week's International Women's Day, Lisa de Clerq and Rebecca Pitt decided to rummage through Die Matie's archives in search for the trends the women on campus have been sporting, year in and year out.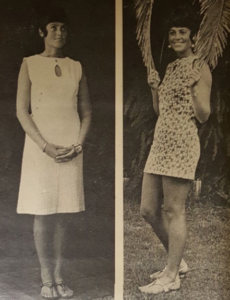 60's
Die mode van die 60's was sy tyd ver vooruit.
Hierdie pikante rokkies kan nog baie op die Rooiplein gesien word.
Alhoewel die linkerkantse rokkie dalk vandag eerder in jou ma se kas sal hang, is daar geen twyfel dat die regterkantse rokkie iets is wat jy sal aantrek as jy vir die "klassieke voorkoms" wil gaan nie.
Die vrouens van die 60's het ook 'n lekker verskeidenheid gehad, want dit blyk dat daar 'n "in" rokkie was vir Saterdag aand se jol en Sondag oggend se kerk.
Minirokke is iets wat nooit uit die mode sal gaan nie.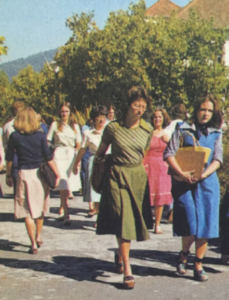 70s
Together with the ever-inspiring global Peace Movement, the 70's brought us an extreme colour-coding trend.
This meant that if you wore a green shirt, you also wore a green headband, a green pair of shoes and a very flattering below-the-knee length green skirt.
This need to match your entire outfit seems as crucial as the need to get to class.
We can't say the ladies of the 70s weren't committed.
Also notice the wide collars, that did not age with the times, unlike the shoes which girls are still sporting around Stellenbosch.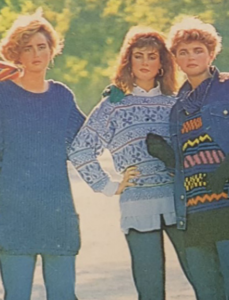 80's
Hierdie foto lyk soos iets uit die musiekvideo van Neighbourhood se liedjie "Sweater Weather".
Die kleure self dui dalk op 'n uitrusting vir 'n Maandag.
Almal weet mens voel maar blou wanneer mens by Victoria afstap agtuur die oggend na 'n naweek wat bietjie te kort was.
Verder is dit ook duidelik dat die vrouens van die 80's hulle "okkie-rompe" in die vorige dekade gelos het.
In hierdie tydperk was mans beslis nie meer die enigstes wat "die broek" gedra het nie. Dit was definitief ook die era van die perm. Hoe groter die hare, hoe beter.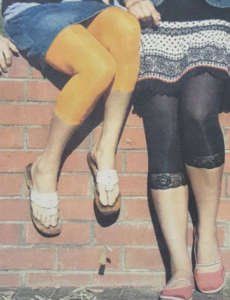 00s
Welcome to the naughties.
The new century ushered in the era of tank tops, denim skirts and neon colours.
Let's put it this way: the students of the early 2000s knew how to dress for those days when Stellenbosch's weather cannot make up its mind. Is it hot? Is it cold? Those in-between days are, after all, all about layers.
In addition, when wearing your mini don't forget to leave something to the imagination… whilst still keeping those leggings flirty with a bit of naughty lace at the bottom.
Amanda Bynes's influence can clearly be seen.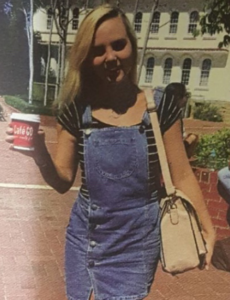 Today
If this girl look familiar, its because you probably own this outfit.
Stripes have come a long way and add a little interest to a mostly monochrome outfit.
The denim dungaree is easy and stylish, and one could say we are living in the golden age of denim.
White sneakers and a leather satchel are staples that perfectly round off most outfits. So, when in a rush for your 8 o'clock tutorial, remember to keep it classic and basic. Also, are you ever fully dressed without your coffee?
Stellenbosch style has never been simpler.