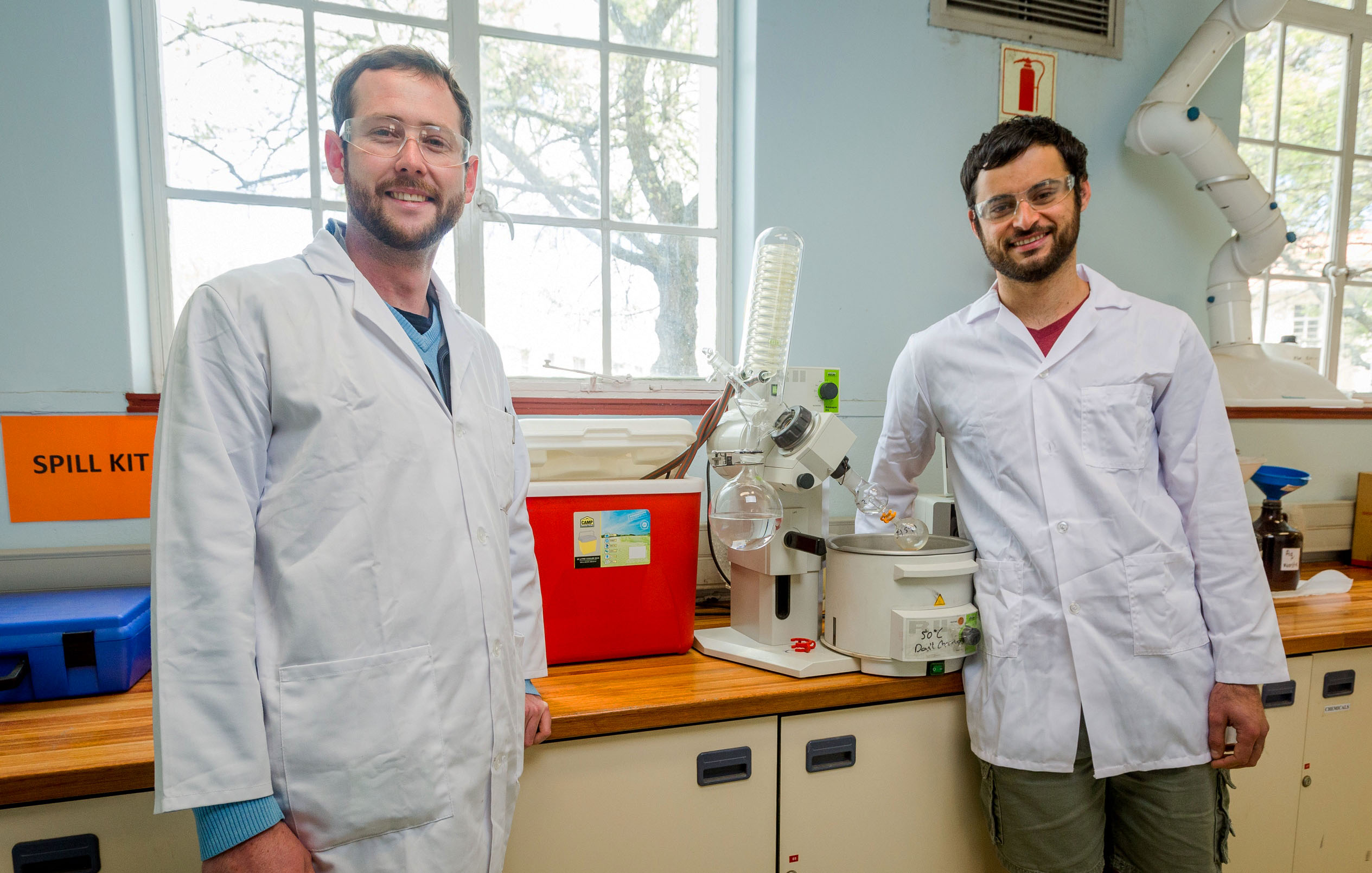 Studente stel watervriendelike voorbeeld
Arleen Stone
Drie PhD-studente aan die Universiteit Stellenbosch (US) se departement Chemie en Polimeerwetenskappe is besig om 3000 liter water per week in hul laboratorium te spaar.
Jonathan Hat, Anton Hamann en Monica Clements het gehardloop met 'n uitdaging wat een van hulle dosente aan hulle gestel het en deur dit 'n positiewe verskil gemaak op die manier wat water gebruik word in hulle laboratorium.
Die departement benodig weekliks duisende liter water vir verskillende wetenskaplike prosesse en toestellwe in hulle laboratoriums.
Nadat vlak 3-waterbesparings deur die Wes-Kaapse regering ingestel is weens die rampspoedige droogte in die provinsie, het prof. Peter Mallon, hoof van die departement Chemie en Polimeerwetenskappe, die nagraadse studente uitgedaag om meer water in hulle laboratoriums te spaar.
"Die uitdaging aan elke groep was om te sien of hulle met goedkoop en innoverende maniere vorendag kon kom om waterverbruik te sny," het Mallon verduidelik. "Almal probeer om water by die huis te spaar, maar in ons geval kann die water wat in die laboratoriums gespaar word 'n groter impak hê."
Gevolglik het hierdie drie nagraadse studente 'n laekoste geslote koue water hersirkuleringstelsel (GKWHS) ontwerp. Dit bestaan uit items wat in hardewarewinkels bekombaar is en boonop is dit goedkoop en eenvoudig genoeg om in meeste laboratoriums gebruik te word.
"Al wat benodig word, is 'n koelboks of plastiekdrom, 'n vistenkpomp, tuinslang en 'n paar pasproppe en krane," het Clements verduidelik.
Volgens Hamann ondersteun die studente en personeel aan die departement hulle inisiatief. "Een van ons kollegas, Christopher Jurisch, het ons verkoelingstelsel in twee ander laboratoriums in die De Beers-gebou geïnstalleer terwyl ons hoof tegniesebeampte, Glen de Jongh, die stelsel by al die voorgraadse laboratoriums aangebring het."
Mallon verduidelik dat die installering van die stelsel by die voorgraadse laboratoriums, waar byna 900 studente weekliks vir praktiese klasse geakkommodeer moet word, ongeveer R 15 000 gekos het. Mallon, te same met prof. Willem van Otterlo en dr. Margaret Blackie, die drie studente se navorsingsgroepleiers, het die studente geprys vir hulle hoë vlak van sosiale verantwoordelikheid.
"Ek glo dat hierdie projek 'n dramatiese impak op die universiteit se waterverbruik kan hê. Dit vereis egter dat elke persoon die verantwoordelikheid aanvaar en soveel water as moontlik spaar," het prof. Mallon gesê.
"Elke probleem het 'n oplossing. Die oplossing hoef nie ingewikkeld of duur te wees om effektief te wees nie, maar kort slegs 'n klein bietjie inisiatief, kreatiwiteit en moeite," het Hay verduidelik.
Foto: Stefan Els