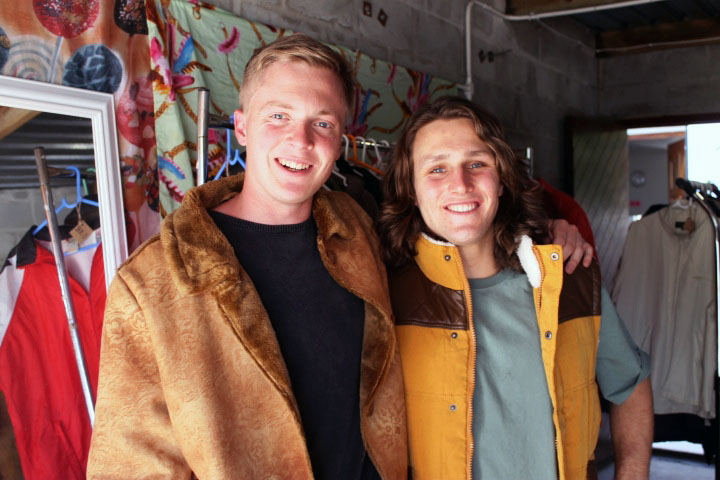 Fat Jays: from a garage to the streets of Stellenbosch
Elze Goosen
In a small garage at 24 Karee Street, two Stellenbosch University (SU) students are hanging on their own coattails. Kelton Thunder, a BA Humanities student, and Denham Shepstone, a BCom General student, opened their own second hand clothes store, controversially named Fat Jays.
"The idea came from the end of my matric year when I visited a vintage shop and bought six pretty cheap jackets which I wore throughout my first year. "Some of my friends began to buy the jackets from me and I thought about selling them on Second Hand for Stellenbosch," Thunder said.
He said that he earned R1000 after only 20 minutes by selling five jackets. Thunder asked Shepstone, who is "good with numbers", to help him with the business and on 19 December last year their garage door officially tilted open.
Thunder said that "it just happened as if we rolled into it– that is why our slogan is 'roll with it'".
Today the jackets are imported from Europe and they are mostly branded by embroidering leather patches onto them. The prices of their material jackets vary from R80 to R400, while their fur coats cost anything between R420 and R1000.
They expanded their business by additionally selling fur coats, hats, ties and beanies, and all their products are delivered nationwide within 3-5 working days.
"There is more to life than sitting around doing sweet boggerôl. You can satisfy yourself through hard work, or, as we call it, 'the dirty grind'," Thunder said.
In December, Fat Jays will be launching a website. Other future plans include a winter project which involves handing out excessive jackets to the homeless community of Stellenbosch. The store is open on Mondays, Tuesdays and Thursdays from 16:20 until 18:00.
Photo: Elze Goosen