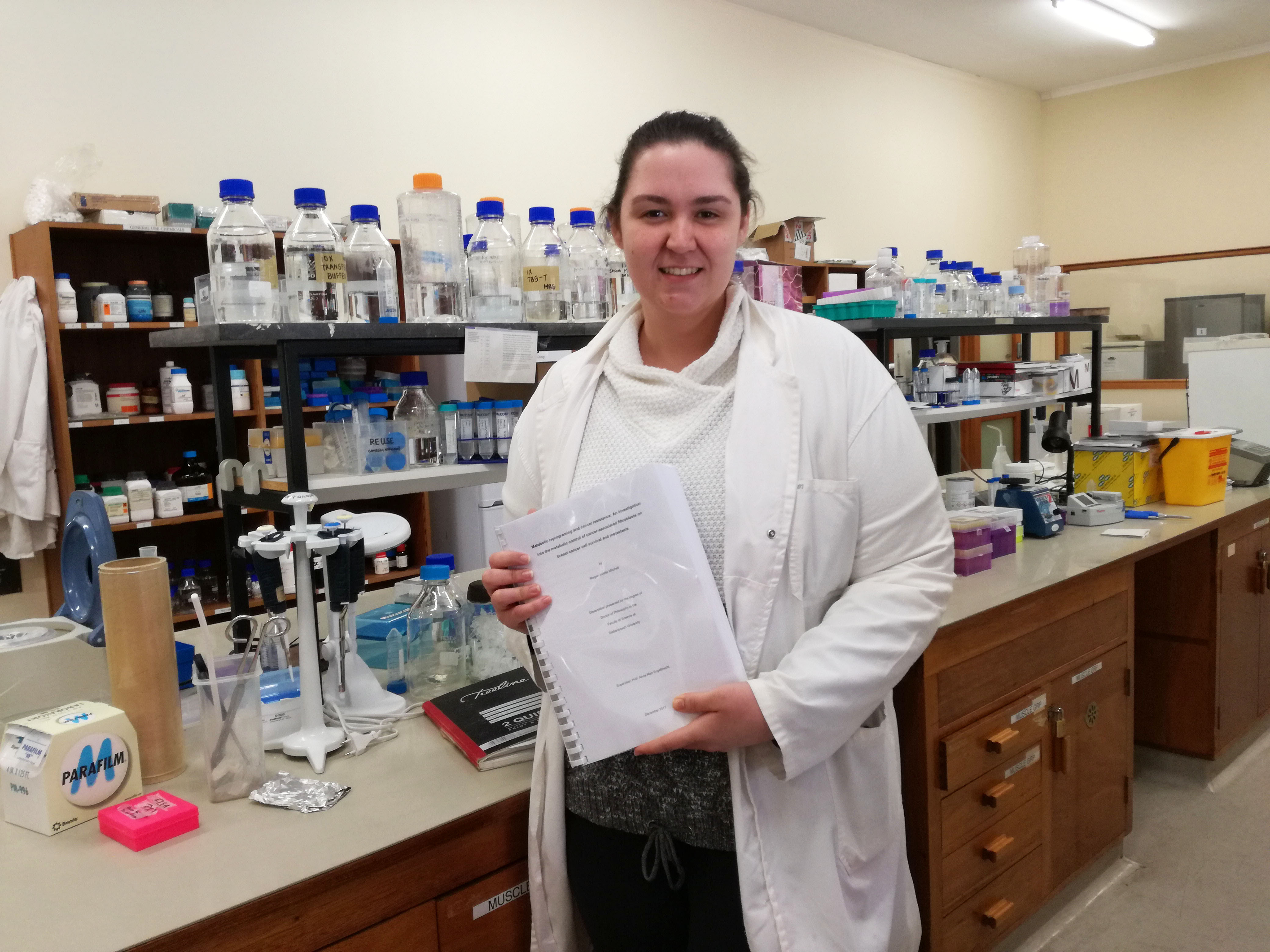 Award for cancer research
Kathryn van den Berg
PhD student Megan Mitchell made Stellenbosch University (SU) proud by winning the esteemed Wyndham award for her cancer research, building on the university's positive reputation in the field of cancer research.
Mitchell was the fourth researcher under Prof Anna-Mart Engelbrecht, chairperson of the Physiology Department, bestowed with the prestigious Wyndham award for her progressive research on the interaction of cancer cells with their environment.
Prof Engelbrecht, who is described by Mitchell as "one of my biggest motivations in achieving my goals", is known in the department for her success in inspiring students to pursue their research in the cancer field.
"The award is very prestigious for the physiology community, because all the universities in Southern Africa send their top researchers to compete at the PSSA (Physiology Society of Southern Africa)," Engelbrecht explains.
In the PSSA, 36 students present their orals to compete for the Wyndham prize, and Engelbrecht boasts that Mitchell unanimously won the competition. Mitchell's unique field of research focuses on the interaction of cancer cells with other cells in their environment and, put simply, is based around the intelligence of the cancer cell to manipulate its environment for its growth and survival.
The tumorous cells have gained the phrase "wounds that do not heal", as the cancer guarantees its resistance to treatment with the aid of the sustainable environment that it creates.
According to Mitchell, this interaction "contributes to the ability of cancer cells to become resistant to chemotherapy".
Mitchell's goal is to further her study with a PostDoc, and ultimately to discover better treatment strategies to help treat patients with cancer. Mitchell believes this goal will be realised with the aid of the Wyndham award, which will further support and recognition for her field of research.
Her advice to any student wishing to succeed in their field is motivation, dedication and, above all, willingness to work very hard.
Photo: Kathryn van den Berg