Elodi Troskie
Dis-Maties hosted their annual Dinner in the Dark last week.
Dis-Maties is a student organisation at Stellenbosch University (SU) for students with disabilities or any other students who are interested in matters regarding disability.
The organisation aims to create awareness of disabilities and serves as a form of social and academic support for students with disabilities. Dis-Maties organises social events throughout the year with the goal of uniting students and creating an environment in which they can reach their full potential, both academically and socially.
Dinner in the Dark is the organisation's biggest annual event with the purpose of raising funds and raising awareness for any disability related issues.
This formal dinner followed by a dance revolves around an interesting concept: along with a three course meal, guests receive a blindfold which they are encouraged to wear throughout the night to experience a form of temporary blindness.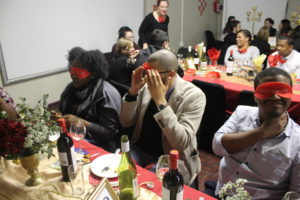 Dinner in the Dark has become an established event over the past few years and has proven great success.
Karien Joubert, outgoing secretary and incoming vice-chairperson for 2017/2018, explains that the goal of this event is to raise awareness for serious issues by creating a fun-filled environment of virtual blindness for guests.
"The challenge is to have your dinner while being blindfolded and having conversations with the people surrounding you."
Joubert is a currently working on her Master's degree in History.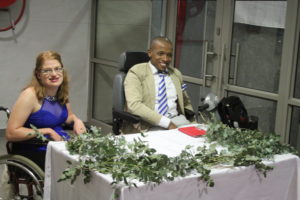 Bongani Mapumulo, outgoing vice-chairperson and newly appointed chairperson for 2017/2018, acted as master of ceremonies. He is a third year BA Social Dynamics student.
Mapumulo was joined by Sydney Berrington, a previous chairperson of Dis-Maties, to answer a few questions with regards to how the committee was reformed and what it has achieved over the course of the past few years.
After Dis-Maties was inactive for a number of years, the SU Disability Unit asked a few students to form a committee once again towards the end of 2012. According to Berrington, the organisation has since become much wider known on campus and says that a lot of positive change has been made since reviving the committee.
Berrington thanked the enthusiastic support of SU staff members attending the event and described them as "worthy, valuable allies" to the organisation. She further said that department heads need to play a more significant role in raising awareness about disability issues.
Mapumulo spoke about the issue regarding the use of guide dogs and asked Berrington about her experience of having a guide dog. When asked what students can do to be more welcoming to guide dogs, she answered that it is disrespectful to film or pet service dogs without permission.
"You need to acknowledge the human on the other side of the dog", Berrington said. "It is not a pet, it is a service dog."
Berrington is still actively involved with the organisation.
Luigia Nicholas, outgoing chairperson who is currently completing her Accounting degree, concluded the evening's activities by thanking all guests who attended for their ongoing support.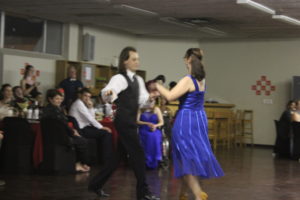 Dis-Maties welcomes anyone who is interested in disability awareness issues.
For more information, visit their website at http://www.dismaties.co.za.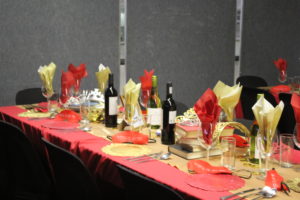 Photos: Carla de Beer