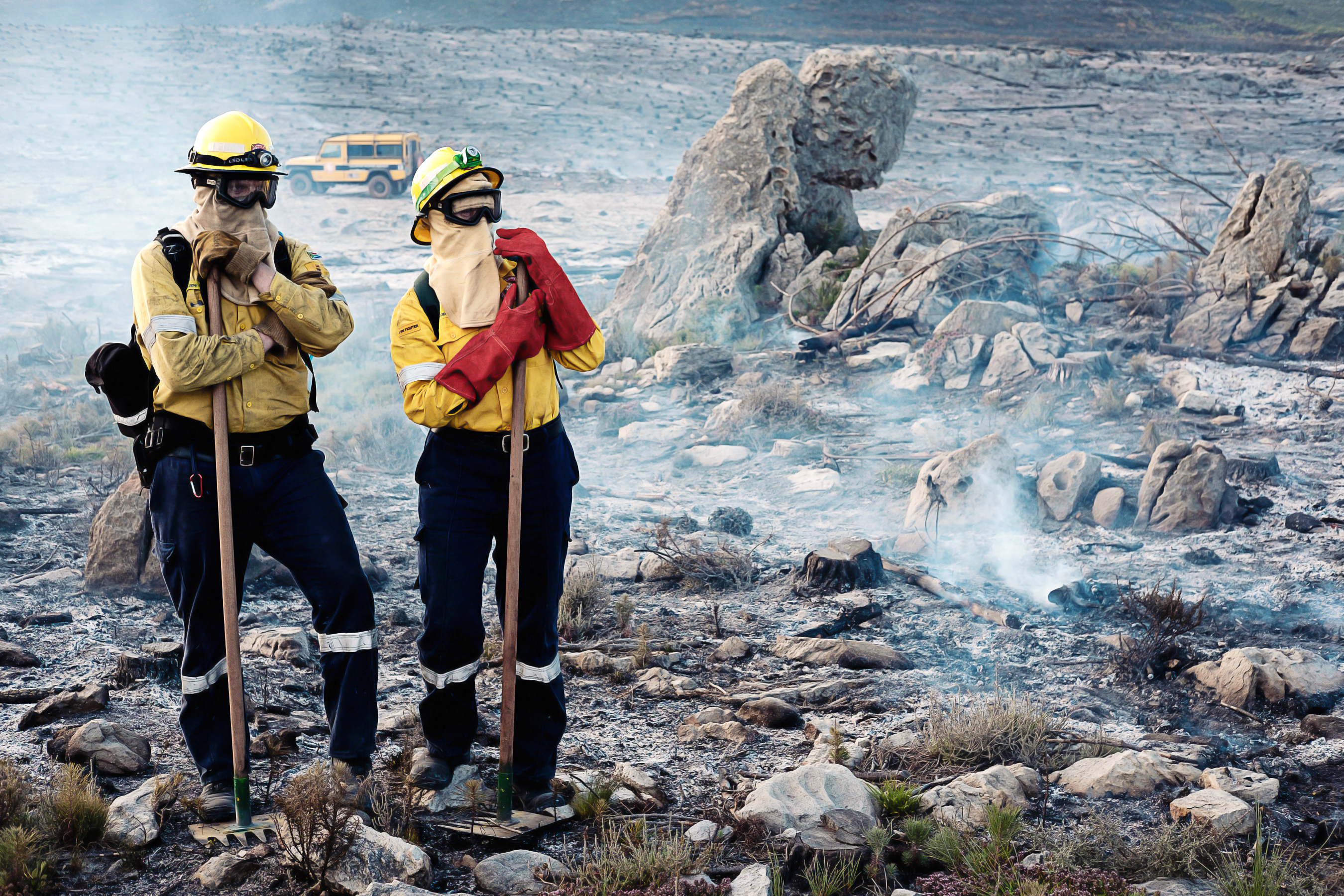 Maties students and staff risk their lives to fight fires
Arleen Stone
Maties students and staff are doing Stellenbosch University (SU) proud with their selfless dedication to putting out blazes in the Cape Winelands District.
Jen Fill, Christopher Hay, Thomas Lennon, Oliver Freyer, sisters Deidré, Liesel and Maryna Odendaal, and Adam Venter all joined the Volunteer Wildfire Services (VWS) to help keep Stellenbosch residents safe.
VWS is a trained, dedicated and passionate non-profit group, consisting only of volunteers.
Combined these members have over 56 000 hours of fire fighting since their launch in 1999/2000 in Cape Town.
Today they boast 220 volunteers over four stations (Newlands, Jonkershoek, South Peninsula and the newly developing Grabouw Station).
They also provide training and other services, such as wildfire suppression, education and awareness programmes, and the monitoring and active suppression of fires during prescribed ecological burns.
Since VWS opened its base in Jonkershoek in 2009, several students and staff members of Stellenbosch University (SU) have joined.
"Some have moved on, as students do, and new ones have taken their place. Currently about 20% of VWS Jonkershoek members are associated with SU.
"Of the 23 new members who joined in 2016, nine are Maties students and two are SU staff members," said Pia Nänny, marketing liason for the Jonkershoek station.
Hayley Hagen, founder of the VWS Jonkershoek base, added that students have proven to be a great asset to VWS.
"Bringing their enthusiasm and energy, they add tremendous value as their schedules often allow them to respond to call-outs when others, bound by office jobs, can't."
SU's own heroes
Jen Fill – American post-doctoral fellow, a member for two years:
"What has impressed me most about VWS is the dedication, selfless commitment and unconditional friendship of the team. Over the course of training, and especially on the fire line, I've realised that the irresistible call to participate is really because of the profound friendships and camaraderie that accompany a mentally and physically demanding experience."
Christopher Hay – BCom investment management student, qualified as a crew leader last year.
"Joining VWS was the best decision of my life. I enjoy nature and I wanted to give something back to the community. I love the humour, banter and camaraderie between members."
Thomas Lennon – studying towards a Postgraduate Diploma in Environmental Management, new recruit
"It was very exciting! You push yourself past what you thought you were capable of. Everyone was very supportive. You're with great people, doing something rewarding."
Oliver Freyer – biodiversity and ecology student.
"VWS is a bunch of really cool people, and the selfless commitment to help is phenomenal. Fighting fire is tricky and tough, but comes with a very rewarding feeling. The support from farmers and the public is a highlight too. I'm just sorry I didn't join sooner."
Deidré, Liesel and Maryna Odendaal – joined VWS in 2016 to challenge themselves and to make a difference.
Deidré, a PhD student, has enjoyed meeting amazing people who take the time to volunteer and make a difference in their community during their spare time. Liesel and Maryna are both Masters students.
Adam Venter – mechanical engineering student, is still chasing his childhood dream of being a fireman and a hero.
"I've always wanted to jump in and help when there were big fires, and it was finally time to get involved."
How can people interested in offering their services join VWS as volunteers?
Follow Volunteer Wildfire Services on Facebook or Twitter (@vwsfires) for more information or send an email to recruitment@vws.org.za to be placed on a distribution list. A series of information sessions are held in March/April each year and interested parties will be informed and invited to attend.