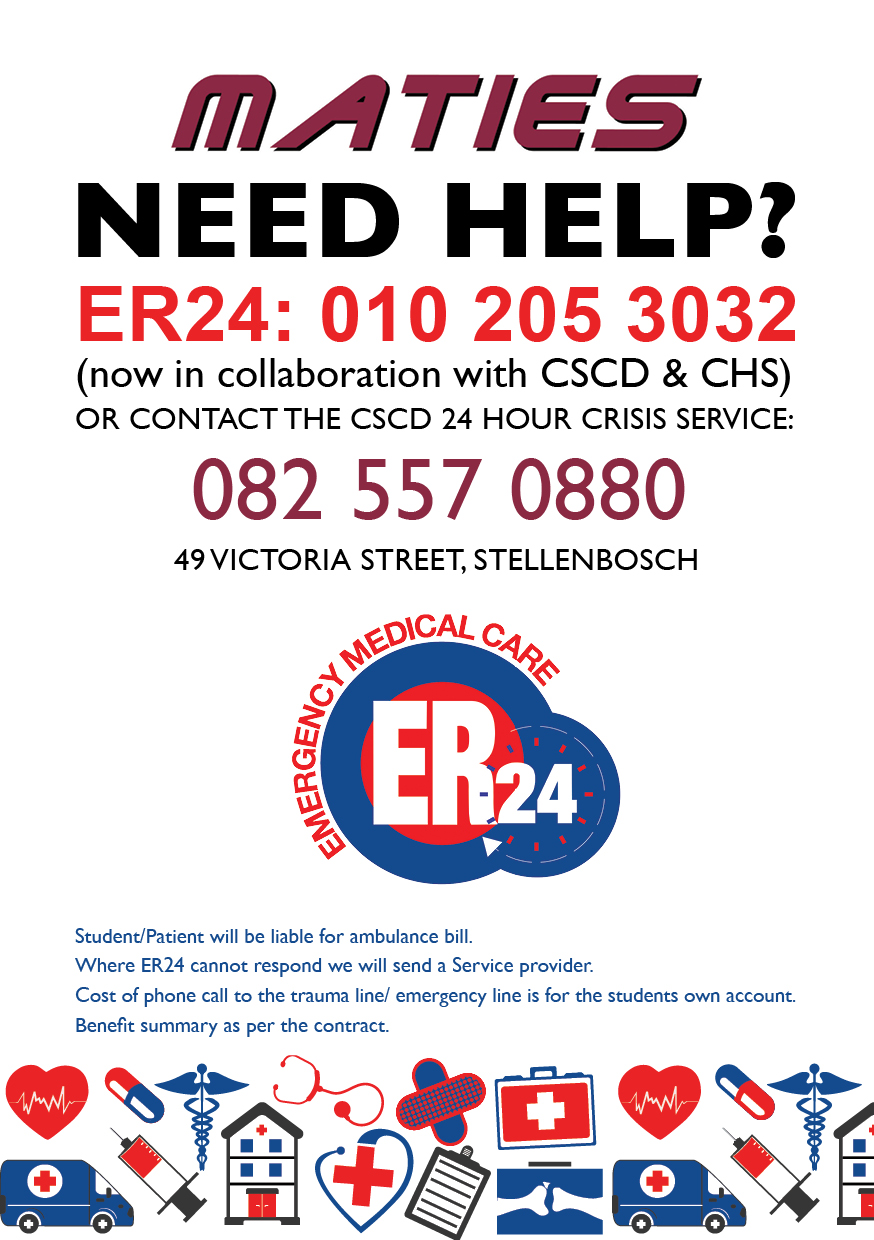 Integrated Crisis Service aims to keep Maties safe nationwide
Arleen Stone
Matie students can now make use of a nationwide effort to keep healthy, mentally, emotionally, and physically.
Discussion amongst students and staff about the previous crisis services at Stellenbosch University (SU) led to a new collaborative initiative between the Campus Health Services, the Centre for Student Counselling and Development (CSCD) and ER24.
This new collaboration was formed in order to provide a more integrated and comprehensive emergency service and became a reality in early 2017.
What to expect from this service
It will be a 24 hour crisis service that is available nationwide for SU registered students. When a student phones the crisis number (010 205 3032) during a crisis situation, the student calling will need to identify themselves as a SU student and the university as a corporate client of ER24.
The necessary questions will then be asked before the specific service will be dispatched.
The service is applicable to all students, whether they are on campus, but also when travelling on sport tours, academic outings, and even when they are at home or on holiday.
The service consists of Emergency Medical Services (EMS), Trauma Counselling (telephonically or face to face), as well as a medical hotline. Students can phone the medical hotline to receive advice on how to manage a medical situation.
Depending on the situation, the trauma counsellor will either be male or female, and they will be comfortable in speaking Afrikaans, English, or IsiXhosa.
The services offered by these SU Centres will continue as usual throughout the day, but ER24 is supporting from 16:00 in the afternoon until 08:00 the next morning and during times when the current existing emergency provision is not permitted to respond. Students can make use of the CSCD Crisis Number (082 557 0880).
A fee-free rate is charged when ER24 paramedics are called out to a scene where a student needs to be stabilized. Only when the student must be transported, costs will be applicable (preferential ER24-tariffs).
This will be deducted from the student's own account. The student will be transported to the closest, best facility for the specific injury – a private hospital for students with medical aid and a government hospital for students without medical aid.
Why the project was started
As any crisis can manifest in a variety of ways, ranging from physical to mental harm, including the management of consequences of crowd unrest and disasters (fire in a building or residence), it poses a risk to students and staff.
"The management of crises within the changing climate at Stellenbosch University is an important matter that had to be revisited," explained Dr Munita Dunn-Coetzee, director of the Centre for Student Counselling and Development.
"Our aim is to provide a comprehensive service that is accessible to all students and this collaboration is therefore an attempt to offer a better service to all Matie students.
"We welcome any feedback that students may have about the service. Feedback can be sent to Munita Dunn-Coetzee at mdunn@sun.ac.za. Let's work together on this very important matter!"